Livestock Buyer
Overview:
Livestock Buyers sell, buy, and select livestock for individuals and companies.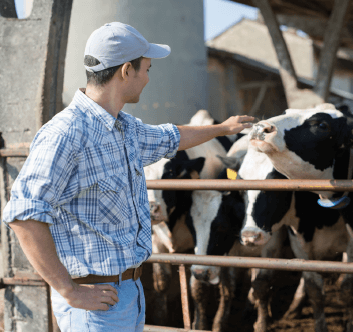 What responsibilities will I have?
Identify livestock acquisition opportunities on a daily basis and secure budgeted throughput levels by offering a range of pricing, hedging and service alternatives to growers in the designated region
Negotiate price with growers and suppliers
Prepare regular reports for analysis by management on competitor activity, purchasing trends and complaints/queries concerning products
Recommend solutions to problems involved in the preparation of contracts and negotiations with customers
Schedule transportation for animals
Advise growers regarding care and maintenance of livestock to ensure safe and efficient production
Visually inspect animals for carcass characteristics
Stay up-to-date regarding market conditions and animal supply
Transfer information to the scale house coordinators for price reporting and scheduling purposes
Ensure USDA and Packers & Stockyard Administration regulatory guidelines are being met
What education and training is required?
An associates or bachelor's degree in animal science, agricultural business or marketing.
To pursue a career as a Livestock Buyer:
The following high school courses are recommended: agricultural education, a focus on sciences such as animal science and biology, and mathematics.
Typical Employers:
Employed by food production companies, contract growers with integrated production facilities, auctioneer companies, or you may be self-employed.
Future Job Market/Outlook:
The future outlook for Livestock buyers is projected to be fair.
Suggested Professional Organizations and Associations:
National Cattlemen's Beef Association
Dairy Farmers of America
American Poultry Association
American Society of Animal Science
National Pork Producers Council