Agribusiness HR Review Report

The AgCareers.com AGRIBUSINESS HR REVIEW documents a range of human resource best practices and emerging trends from agribusinesses across North America over the last twelve months.
Topics covered include:
Salary & salary reviews
Employee attrition
Workforce development
Flexible staffing
Bonus & incentives schemes
Recruitment practices
Employment branding strategy
The information is captured via an online survey. The data is then collated and presented in a full report providing key findings, analysis commentary, infographics and charts.
Browse an overview of key findings from the 2019-2020 Agribusiness HR Review by clicking the image below.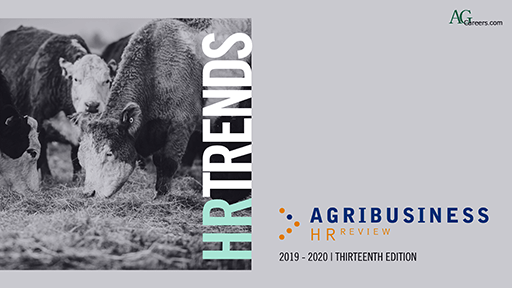 Download the full-report:
U.S. 2019-2020 Agribusiness HR Review
Canadian 2019-2020 Agribusiness HR Review
Watch an overview of trends discovered in the 2019-2020 HR Reviews with our complimentary webinar on-demand. Register for free and watch at your convenience:
2019-2020 Agribusiness HR Review Trends Recap Webinar
To learn more email compensation@agcareers.com or call 800.929.8975