Produce Inspector
Overview
A produce inspector is responsible for physically inspecting fresh produce during the growth and harvest process. Produce inspectors will also grade the product in accordance to the USDA guidelines.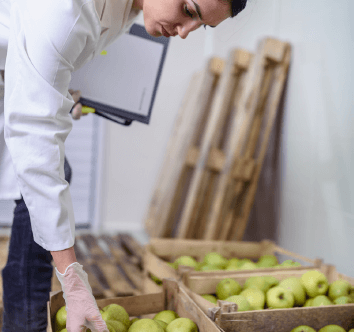 What responsibilities will I have?
Inspect produce in the field and as it arrives to its destination
Using USDA and customer specification, grade product for quality, condition, weights, and size
Determine the condition of the produce
Make suggestions on the shelf life of the produce and suggest when it should be used or sold by depending upon the intention on the use of the product
Make recommendations on the use for different varieties
Ensure produce is kept at proper temperature
Understand the use of the tools needed for quality inspections to include sizers, scales, calipers, and other measuring devices.
Collaborate with USDA Produce Inspectors for needed quality federal inspections to ensure resolution of issue(s)
What education and training is required?
A bachelor's degree in agriculture business, marketing, supply chain management, horticulture, or other business related field.
To pursue a career as a produce inspector:
The following high school courses are recommended: agricultural education, mathematics, statistics, Spanish and business.
Where can I work?
Produce inspectors work for the federal and state government and also for produce supply companies or restaurants who purchase produce.
Future Job Market / Outlook
The future outlook for a produce inspector will be good over the next five years.
Suggested Professional Organizations and Associations
United Fresh Produce Association
Produce Marketing Association
National Restaurant Association