Animal Biotechnologist
Overview:
Animal Biotechnologists are responsible for researching how nutrients in feed and/or animal reproductive processes impact animal health. They then create methods for more efficient production using their research findings.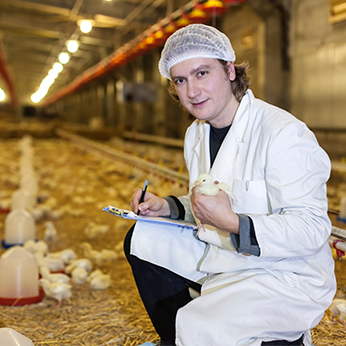 What responsibilities will I have?
Disseminate technical information to veterinarians or related animal health personnel
Perform daily insemination, heat detection and schedule of the herd
Maintain records of procedures, farm calls and emergencies
Routine maintenance and sterilization of equipment and machinery
Semen collection and processing semen orders
Attend training programs and education workshops to ensure customer satisfaction
On-farm training of personnel
Analyze client needs and develop nutritional plans for their animal(s)
Develop and test new feed supplements for farmers
Assess new nutritional products and feed combinations
Investigate nutritional disorders
Write reports and give informational presentations regarding animal nutrition
Customize ingredient blends and management programs
Monitor feed formulations to meet standards and quality control regulations
Evaluate chemical and nutritional value of feeds and feed supplements
Coordinate research trials
Initiate and support patent applications for securing new products
Ensure health, safety and environmental procedures and regulations are put in place and followed
Attend training when needed and coordinate training for team members
Monitor laboratory analysis and assist when needed
What education and training is required?
A master's degree in animal/poultry science or related major.
To pursue a career as an Animal Biotechnologist:
The following high school courses are recommended: agricultural education, a focus on sciences such as animal science, chemistry and biology, and mathematics.
Typical Employers:
Employed by food production companies, contract growers with integrated production facilities, animal pharmaceutical companies, and university research farms there are also some opportunities to be self-employed.
Future Job Market/Outlook:
The future outlook for Animal Biotechnologist will be good over the next five years.
Suggested Professional Organizations and Associations:
National Cattlemen's Beef Association
Dairy Farmers of America
American Poultry Association
American Society of Animal Science
National Institute for Animal Agriculture