Overview
Wind turbine technicians (also known as "windtechs") are responsible for the installation, maintenance and repair of wind turbines.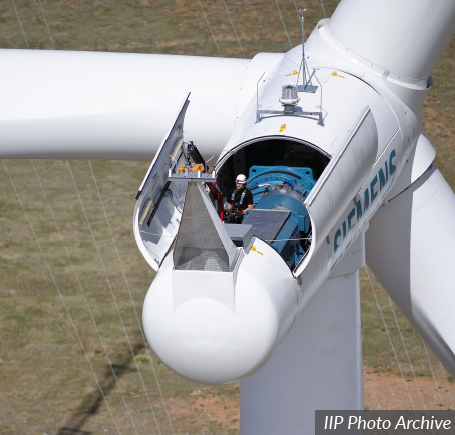 What responsibilities will I have?
Conduct basic cleaning and maintenance of wind turbines and the areas surrounding them
Remain safety-oriented
Properly maintain fleet vehicles
Maintain documentation of service performed
Change filters and perform other scheduled maintenance
Troubleshoot problems that occur
Climb several hundred feet for maintenance and cleaning
Remain abreast of the latest wind turbine technologies and regulations
Work well with a team
Perform diagnostic electrical analysis
Communicate with landowners and supervisors as needed
Conduct safety analysis of potential electrical and mechanical hazards
Remain flexible as problems may occur in the evenings or on weekends
What education and training is required?
An associate's degree in applied sciences such as wind energy technology may meet job requirements. If you are in an area with a large wind turbine presence, you may be able to receive training specifically as a wind turbine technician, which is preferred.
To pursue a career as a wind turbine technician:
The following high school courses are recommended: agricultural education, environmental science, physics, and computer courses.
Where can I work?
The states that generate the most wind power are Texas, California, Oklahoma, Illinois, Kansas, Minnesota, Iowa, Oregon, Colorado, Washington, North Dakota, and Wyoming. These states have a high demand for wind turbine technicians, but as the industry grows the need for wind turbine technicians will be more widespread.
Future Job Market / Outlook
The future outlook for a wind turbine technician will be great over the next five years.
Suggested Professional Organizations and Associations
American Wind Energy Association
National Wind Coordinating Collaborative
Windustry