Veterinary Assistant
Overview
A veterinary assistant works alongside a veterinarian to assist in the medical treatment of sick or injured animals.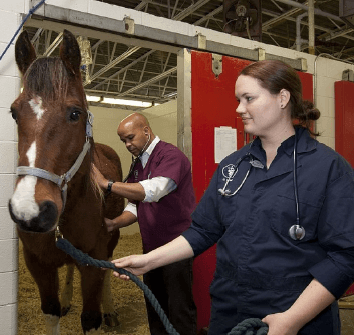 What responsibilities will I have?
Provide daily tactical support to assist veterinarians in health monitoring and diagnostics
Prepare surgery suites and equipment as well as the animal patient for surgery or examinations
Feed and weigh animals in assigned care
Handle and restrain animals to and from veterinary facilities
Perform animal teeth cleanings
Administer medications and collect samples such as blood and urine for testing
Ensure that livestock or animals in assigned care are fed, cleaned, groomed and exercised
Conduct laboratory work including microbiology, sample serum preparation and supply management
Maintain medical records of animals
Keep a sanitary and sterile environment in examination rooms, kennels, cages and/or pens
Clean and sterilize medical tools and equipment
What education and training is required?
An associate's degree in animal science, veterinary medicine or veterinary technology is required to become a veterinary assistant or associate.
To pursue a career as a Veterinary Assistant:
The following high school courses are recommended: agricultural education, animal science, biology, chemistry, computer courses, and mathematics.
Where can I work?
Veterinary assistants work for animal health companies, livestock production companies, laboratories, clinics, and animal hospitals or animal shelters.
Future Job Market / Outlook
The future outlook for a veterinary assistant will be good over the next five years.
Suggested Professional Organizations and Associations
American Veterinary Medical Association
North American Veterinary Technician Association
American Association of Feline Veterinarians
World Small Animal Veterinary Association