Plant Geneticist
Overview
Plant geneticist conduct research to understand, improve or create new varieties of plants or crops. Looking at a plant's DNA they can examine ways to improve shape, size, production level, pesticide and disease tolerance.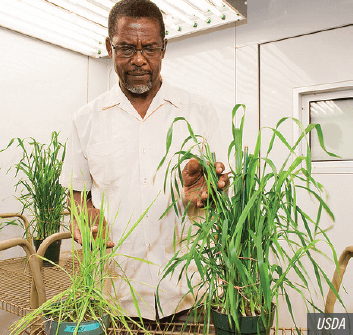 What responsibilities will I have?
Write research plans and objectives
Create budgets for research projects and seek funding (typically in a university setting)
Cross breed plants to breed new subjects for trials and to build up a seed bank
Record data on plants in trials
Identify genes that are responsible for certain plant features and functions
Stay up to date on research being done elsewhere through journals and periodicals
Tend to trials grown both in greenhouses and fields
Maintain thorough records of research conducted
Look for ways to genetically engineer crops that are higher yielding, healthier, disease and pest resistant or a number of other characteristics
In a college or university setting may be asked to teach graduate and undergraduate courses related to plant genetics, plant breeding etc.
Serve as a liaison and spokesperson for government and industry as needed
Supervise the work of field and laboratory workers
Prepare and publish reports on research conducted
What education and training is required?
A bachelor's degree in biology, botany or biochemistry. Depending upon the employer and nature of the job a master's degree or doctorate (especially if doing research or teaching) may be required.
To pursue a career as a plant geneticist:
The following high school courses are recommended: agricultural education, a focus on sciences, chemistry and biology, and mathematics.
Where can I work?
Plant geneticists can work for agricultural seed and chemical companies. Some also work in the university setting conducting research and teaching. There is also opportunity to work in the non-profit sector conducting research to benefit those in areas where it is difficult to grow plants and crops.
Future Job Market / Outlook
The job outlook for plant geneticist will be good over the next five years.
Suggested Professional Organizations and Associations
American Society of Plant Biologists
Global Plant Council
American Society of Agronomy
Bio-tech Industry Association