Grain Buyer
Overview
A grain buyer builds relationships with producers on behalf of the company they represent or are employed by allowing them to purchase the producers grain at a fair price.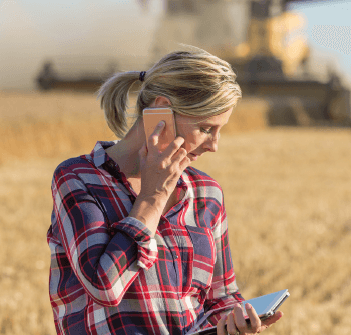 What responsibilities will I have?
Build relationships directly with farmer customers
Write contracts and negotiate purchase agreements
Source protein meals, screenings, mill feeds & other ingredients as needed from local producers
Coordinate grain deliveries
Issue purchase orders for farmer suppliers, invoice purchases from farmers and insure timely payment for farmer suppliers
Be aware and knowledgeable of grain trading policies and current market trends via the Chicago Board of Trade
Perform USDA grain grading procedures
Participate in monthly commodity purchasing and inventory-related meetings
What education and training is required?
An associate's degree or higher in agricultural business, agricultural marketing or related agricultural program.
To pursue a career as a Grain Buyer:
The following high school courses are recommended: agricultural education, mathematics, business and computer courses.
Where can I work?
Grain buyers are typically employed by grain elevators, food production companies, animal nutrition companies, and bioenergy companies.
Future Job Market / Outlook
The future outlook for grain buyers will be good over the next five years.
Suggested Professional Organizations and Associations
American Soybean Association
Food Ingredient Distribution Association
Food Processing Suppliers Association
National Grain and Feed Association
National Association of Wheat Growers