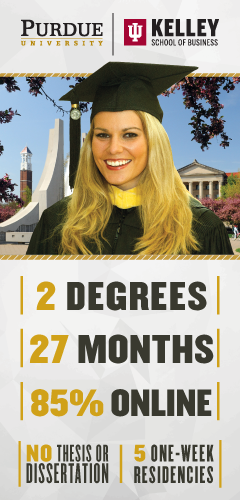 Top 5 reasons to choose the MS-MBA in Food and Agribusiness Management
Here are a few or the top reasons, you should choose the MS-MBA as your graduate degree program.
1. "Go to class" when and where you want
More than 85 percent of the MS-MBA is delivered online, and you don't have to log-in at a specific time or place.
You control when and where you want to study based on your schedule.Course material remains online through the duration of the program, so you can continually access and replay lectures, unlike in a traditional classroom. Because course lectures can be downloaded, you can take the classroom with you at any time and keep lectures for when you need a refresher.
The MS-MBA online curriculum mirrors what you would find on each campus. However, the program is broken down into modules, instead of traditional semesters.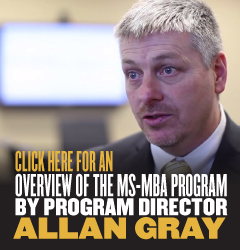 Each module lasts 11 weeks and consists of two 3-credit courses. Purdue and Indiana University (IU) understand the rigors of working full-time while pursuing a graduate education—after each module, you will take a week off before beginning the next module. Most people invest 10-12 hours per week studying for each course.
2. Earn two degrees from well-known universities
In 27 months, you earn an MBA from Indiana University's Kelley School of Business and an MS in agricultural economics from Purdue University. Purdue's College of Agriculture is ranked No. 8 in the world by Quacquarelli Symonds, and Indiana University's Kelley School of Business is ranked the No. 1 Best Online Graduate Business Program by U.S. News and World Report.

You will spend time on campus at Purdue and IU during four of the five one-week residencies. Two are held in Bloomington, Ind., at IU and two are held at Purdue in West Lafayette, Ind. The final residency is an international experience.

3. Learn relevant and immediately applicable content
Because the program allows you to continue your career while pursuing graduate degrees, you can immediately apply classroom lessons in leadership and agribusiness to situations that arise in the workplace.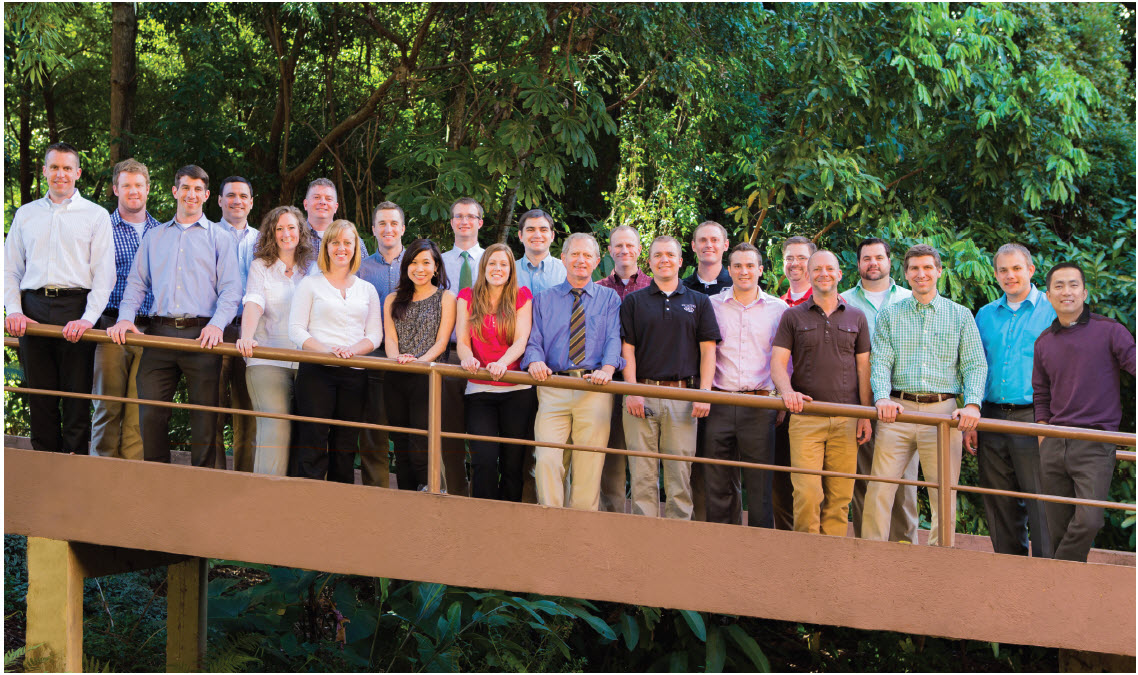 Purdue University – Indiana University MS-MBA in Food and Agribusiness Management 2014 - 2016
The program curriculum has a leading-edge managerial foundation with a focus on the food and agricultural industries—a balance that will both broaden and deepen your perspectives.
A thesis or dissertation is not required for the MS-MBA program, but you will complete a capstone project, which focuses on a significant issue or opportunity facing your company or sponsoring organization. Supported by Purdue professors, you will develop a solution to the problem or issue. Many of these projects have had important financial impacts on the sponsoring organizations and can be kept confidential, if you prefer.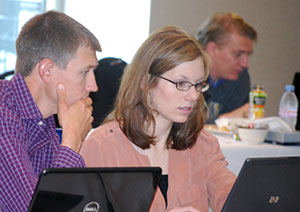 4. Network and build lifelong relationships
Your MS-MBA classmates represent various sectors of the food and agribusiness industry. Students are typically 29-35 years old and younger, and have 5-10 years of business experience, though older students have also been very successful in the program. By exchanging experiences and ideas through online courses and the five one-week residencies, you expand your professional network and establish lifelong friendships.Plus, Purdue ensures that class sizes remain small, which increases your interaction.
5. Experience global business situations
Exploring issues from a global perspective throughout the MS-MBA prepares you for the ultimate experience — a one-week international residency. The trip exposes you to first-hand global business situations and solidifies classroom discussions surrounding international challenges and opportunities.
Learn more about the application process
Taryn Nance, Program Manager
Office: 765-496-2447
Cell: 765-714-2771
tnance@purdue.edu
agribusiness.purdue.edu/degrees