Welder
Overview:
Welders are responsible for welding equipment and most commonly, machines. They also weld together framework made out of steel for buildings.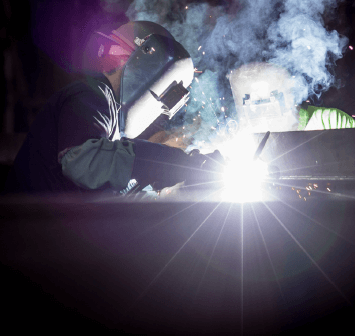 What responsibilities will I have?
Assemble, install and repair equipment such as grain and feed handling, storage and drying equipment (including bucket elevators) boiler and boiler components, scrubbers, fans, pumps, conveyors, gear boxes and turbines
Read and interpret layout plans, blueprints, or other drawings
Maintenance and repair of equipment
Complete steel construction, working high in the air, underwater or in shop setting
Support company safety and continuous improvement programs
Inspect, maintain, troubleshoot and repair equipment
Utilize arc, oxygen/acetylene, MIG, TIG and plasma methods to safely perform welding and cutting functions
Positions and secures work piece, using hoist, crane, wire and banding machine, or hand tools
Maintain records of maintenance activities including the use of a computerized maintenance management system
What education and training is required?
A high school diploma and in many cases a welding certification, is required.
To pursue a career as a Welder:
The following high school courses are recommended:agricultural education, a focus on science, and mathematics.
Typical Employers:
Employed by farm equipment dealers and manufacturers, seed production companies, cooperatives, feed and grain companies, food production companies.
Future Job Market/Outlook:
The future outlook for Welders is projected to be good to excellent depending on skills, certification and location.
Suggested Professional Organizations and Associations:
American Welding Society
United Association of Journeymen and Apprentices
Welding Research Council