Swine Finishing Farm Manager
Overview
A finishing farm manager manages daily operations for animal livability on farm during the last phase of the grow-out stage of the pig. They are responsible for overseeing all aspects of the health and growth of the animal in an effective and safe manner.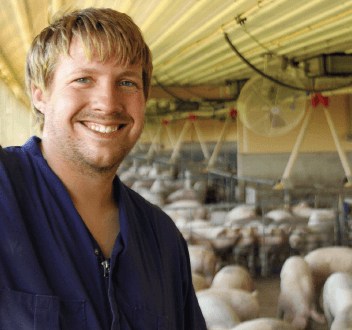 What responsibilities will I have?
Supervise farm activity
Write and enforce biosecurity plans
Monitor and follow-up on every aspect of animal productivity.
Stay up to date on innovations and research within the industry.
Monitor animal health and behavior
Work with veterinarian to determine treatment of sick/injured animals
Order and arrange shipment for feed
Daily interaction with the animals to ensure animal well-being
Assign duties and examine work for exactness and conformance to policies and procedures
Prepare, review, and complete reports including weekly production reports, action reports supply orders, maintenance reports, feed orders, and employee time cards
Tour all farm departments daily with supervisors.
Administer and participate in the company safety program
Monitor ventilation and water availability in all barns
What education and training is required?
A bachelor's degree in animal science is preferred for this job, but it is not necessarily required, some companies may require a high school diploma or an associate's degree in animal science or swine management.
To pursue a career as a finishing farm manager:
The following high school courses are recommended: agricultural education, animal science, mathematics, biology and chemistry.
Where can I work?
A finishing farm manager is employed by swine production farms who house and produce swine for processing.
Future Job Market / Outlook
The future outlook for a nursery or finishing farm manager will be good over the next five years.
Suggested Professional Organizations and Associations
National Pork Producer's Council
National Pork Board