Overview
A pet groomer or pet stylist professionally grooms dogs, cats, and other pets. A horse groom specializes in grooming, tacking, and bathing horses.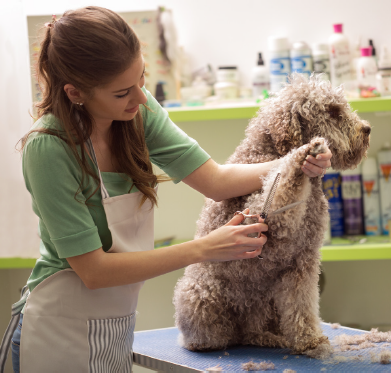 What responsibilities will I have?
Greet clients and pets and take instructions for grooming them per the client's wishes in a professional manner
Bathe and clean pets prior to grooming
Groom pets by brushing and scissoring fur, filing or clipping nails, cleaning ears and teeth, or coloring fur or hair to the preference of client
Administer grooming all while ensuring safety and compassion for animal
Recognize skin or coat issues as well as parasites, injury, or disease symptoms in order to report to pet owners
Sweep or vacuum grooming area after each pet has been groomed
Clean tub and grooming equipment after each grooming
Instruct owners and clients on proper washing care for their pets
Schedule, book, and verify appointments
Maintain records
Keep inventory of grooming products such as shampoo and soap
Be willing to work flexible hours including weekends
What education and training is required?
A high school diploma is required to become a pet groomer along with a certain level of experience, typically as an apprentice or trainee. There are also pet grooming programs available. Breed-standard clipping knowledge is preferred.
To pursue a career as a Pet Groomer:
The following high school courses are recommended: agricultural education, animal science, anatomy, and biology.
Typical Employers:
Pet groomers work for pet salons, pet stores, veterinarians, kennels, or are self-employed. Horse grooms work for stables or may be self-employed.
Future Job Market/Outlook
The future outlook for a pet groomer will be good over the next five years.
Suggested Professional Organizations and Associations
National Dog Groomers Association
Professional Cat Groomers Association of America
International Professional Groomers, Inc.
Intellectual Groomers Association
State pet groomer associations