Overview:
A Landscape Technician in in charge of growing and maintaining plants on properties. They also manage and redesign a variety of plants and the construction of hardscapes.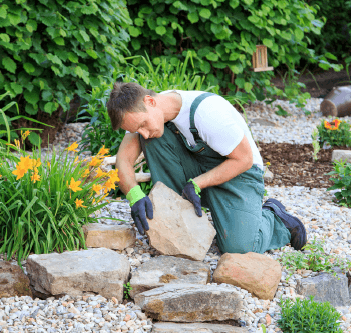 What responsibilities will I have?
Grow, maintain and transplant flowers, shrubs and trees
Maintenance and installation of sprinkler systems
Construct walkways, walls and small foot bridges
Follows plans and specifications, inspects and directs the planting of landscape material associated with improvement, beautification, and erosion control
Create and adhere to various watering and feeding schedules
Plan new growth planting patterns in distinct seasonal changes
Identify detrimental insects or plant disease and eliminate them
Ability to adhere to a predetermined budget
Operate a variety of mechanical equipment
If certified or under the supervision of a certified applicator will apply chemicals
What education and training is required?
An associates or bachelor's degree in landscape horticulture, turf grass, plant science, soil science, agronomy, biology or related field is required.
To pursue a career as a Landscape Technician:
The following high school courses are recommended:agricultural education, a focus on science particularly biology /botany/earth science/geography, mathematics, and geometry.
Typical Employers:
Employed by greenhouses, nurseries, government agencies, residential communities, athletic venues or universities.
Future Job Market/Outlook:
Depending on location the job market for landscape technicians can be considered good.
Suggested Professional Organizations and Associations:
Soil Science Society of America
American Nursery and Landscape Association
Committee for Sustainable Agriculture
Weed Science Society of America
Professional Lawn Care Association
Professional Landscape Designers
The Professional Landcare Network