Hydroponics Producer
Current Job Openings:
No current listings at this time, Click Here to search for other openings
Overview
Hydroponics producers grow crops without soil, but using a water solution that is rich in nutrients, typically in greenhouses.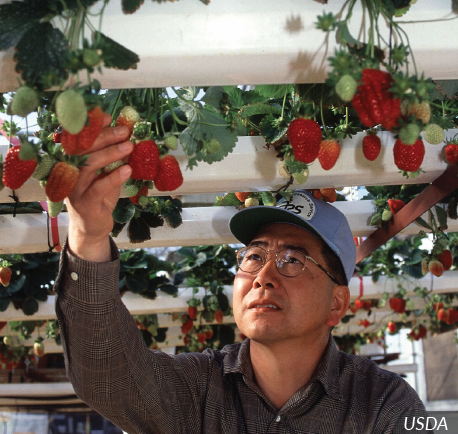 What responsibilities will I have?
Choose plants to be planted for each growing season that can be grown cost effectively hydroponically
Develop a system and time schedule for planting vegetables, herbs and other plants
Oversee maintenance of hydroponic equipment and greenhouse, ordering of necessary equipment and seeds, and maintained accurate records and propagation journals.
Foster and grow our greenhouse business, develop business relationships with local chefs, and supply locally grown vegetables, herbs and micro herbs
Determine what nutrients are needed by the plants being produced
Find ways to make hydroponic systems more efficient
Find ways to market produce throughout the year
Test and maintain water quality for growing
Project and compile an annual budget and potential income report for the greenhouse
What education and training is required?
Farming or gardening experience is needed, but no degree is required.
To pursue a career as a hydroponics producer:
The following high school courses are recommended: agricultural education, computer courses, mathematics, biology and business courses.
Where can I work?
Hydroponic producers typically work independently. They are responsible for the production, business and maintenance associated with operating the farm. Some may be employed by specialty food production companies.
Future Job Market / Outlook
As the amount of farmable land lessens, the prospect of hydroponics is appealing. The job outlook for a hydroponics producer will be good over the next five years.
Suggested Professional Organizations and Associations
US Hydroponic Association
The Hydroponic Society of America