Feed Mill Manager
Overview
Feed mill managers are responsible for overseeing the production, quality, costs and safety of the mill which produces feed for animals.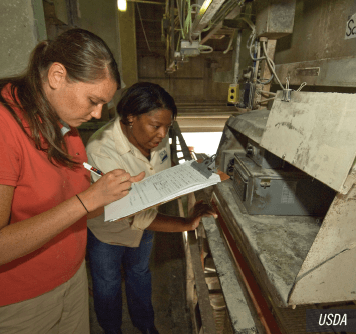 What responsibilities will I have?
Review production records
Schedule feed production
Keep inventory of feed ingredients and order as needed
Test and review feed/grain quality
Schedule employee shifts and keep track of employee time
Handle customer questions and complaints
Evaluate operating procedures
Set quality assurance standards
Prepare and monitor monthly, quarterly and yearly budgets
Stay up to date on new technology and ways to make process improvements
Train new employees and provide development opportunities
Ensure all employees are trained on safety and continue to stay up to date
Maintain filling equipment and other equipment needed to perform duties such as loaders, scales etc.
What education and training is required?
A bachelor's degree in agriculture, animal science, poultry science or feed mill management.
To pursue a career as a Feed Mill Manager:
The following high school courses are recommended: agricultural education, business, mathematics and chemistry.
Where can I work?
Local cooperatives, independently owned feed mills, animal nutrition companies, pet food companies, feed lots and integrated poultry companies.
Future Job Market / Outlook
The future outlook for feed mill managers will be good over the next five years.
Suggested Professional Organizations and Associations
National Grain and Feed Association
American Feed Industry Association
State Grain and Feed Associations - ex. California Grain and Feed Association