Dairy Farm Worker
Overview
A dairy farm employee assists in daily operations on the farm. This can include milking, calving, feeding and breeding.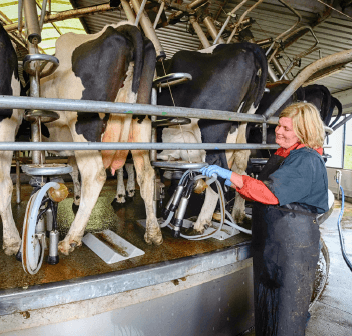 What responsibilities will I have?
Ensure cattle have access to food and water.
Identify sick animals and work with veterinarian to determine proper treatment
Assist in breeding programs including artificial inseminations and synchronization
Perform and assist in milking operations
Assist in tagging and feeding of calves
Assist in vaccination programs
Maintain and build fences
Clean milking parlor after each milking
Ensure milk quality and safety is not compromised by following standards
Maintain high standards of animal welfare
Take milk samples from tanks
Clean tanks after milk is picked up by truck
What education and training is required?
A high school diploma is required. Although it is not always required associates degree in animal science or animal husbandry would be recommended.
To pursue a career as a dairy farm worker:
The following high school courses are recommended: agricultural education, animal science, biology, mathematics and chemistry.
Where can I work?
As a farm worker you have the ability to work for different sizes of farms. You may work for a small cow/calf operation or you may work for a larger dairy.
Future Job Market / Outlook
The future outlook for a dairy farm worker will be good over the next five years.
Suggested Professional Organizations and Associations
American Dairy Association
Dairy Management Inc.
United Dairy Industry Association