Cotton Gin and Warehouse Manager
Overview
A cotton gin and warehouse manager oversees all operations involved in cotton ginning processes, logistics with USDA Cotton Classing offices, logistics with producers, storage and marketing of cotton bales.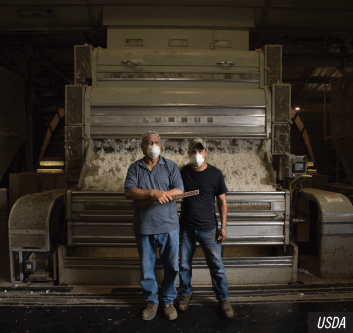 What responsibilities will I have?
Oversee ginning operations and equipment upkeep and maintenance
Ensure all phases of machinery operations are calibrated and functioning for efficiency and throughput
Transport harvested cotton from field to gin
Dry, clean, remove cotton seed from lint and baling and package cotton
Package and ship samples to USDA Classing offices
Oversee data management and reporting bale ID numbers and sample classing data
Market and facilitate sales and shipment of cotton bales with brokers
Handle logistical storage of cotton bales in warehouses
Oversee gin safety protocols and procedures according to OSHA guidelines
Market cotton seed and gin trash to potential buyers
What education and training is required?
A high school diploma is required however an associates degree in agricultural mechanics, engineering, business, and/or marketing or higher may be preferred.
To pursue a career as a Cotton Gin and Warehouse Manager:
The following high school courses are recommended: agricultural education, physics or mechanics, accounting, computer courses, and mathematics.
Where can I work?
Cotton Gin and Warehouse Managers work for private or cooperative gins in all cotton producing states. Some may be self employed if they are owner or part owner of the gin.
Future Job Market / Outlook
The future outlook for a cotton gin and warehouse manager will be good over the next five years.
Suggested Professional Organizations and Associations
National Cotton Ginners Association
Cotton Incorporated
National Cotton Council
Regional Ginners Associations