Career Counselor / Career Services Coordinator
Overview
Career services professionals are responsible for preparing and facilitating career preparation programs for students in either secondary or collegiate atmospheres.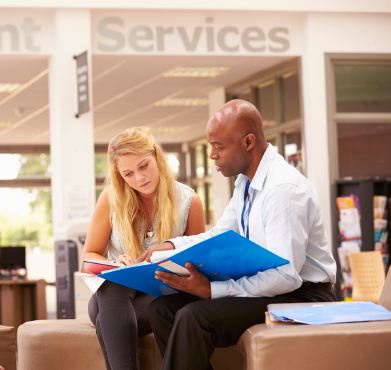 What responsibilities will I have?
Design and implement career preparation activities, resources, and career events for students involving the job search such as resume writing, interviewing, professional dress, etc.
Regularly communicate career and internship opportunities to students
Develop and maintain a website and/or social media for students to access career and internship opportunities and information
Plan and coordinate career fair events
Meet with students one-on-one by request or during office hours to discuss career opportunities and preparation
Answer students' questions regarding employment and placement
Oversee student placement into internships for credit
Serve as a liaison between the university or institution you represent and workforce representatives or potential employers in agriculture
Develop and cultivate relationships with potential employers through cold calling, mailing, networking, and site visits
Frequently communicate with collegiate faculty to incorporate career activities into their classes and curriculum
Partner with other offices or departments on campus to promote career services programming
Analyze and publish student employment data and statistics to ensure success of placement efforts
Monitor student employment requests from the community and surrounding areas
Participate in program advising meetings as well as department meetings
Remain up-to-date on new potential employers as well as career development news and trends
What education and training is required?
A bachelor's (Master's is preferred) degree in agriculture, agricultural education, education, counseling, or a related field is required to work as a career counselor.
To pursue a career as a Career Counselor/Career Services Coordinator:
The following high school courses are recommended: agricultural education, English, communications, and mathematics.
Typical Employers:
Career services professionals and counselors work in academic settings. They are more common in agricultural and land-grant universities and colleges, but some may work at the high school level.
Future Job Market/Outlook
The future outlook for a career services counselor will be good over the next five years.
Suggested Professional Organizations and Associations
The National Career Development Association
National Association of Agriculture Educators
American Association for Agricultural Education
National Association of Colleges and Employers