Overview
A carcass merchandiser, or a meat merchandiser, is responsible for the sale and merchandising of animal carcasses (most often pork and beef) by working closely with livestock graders.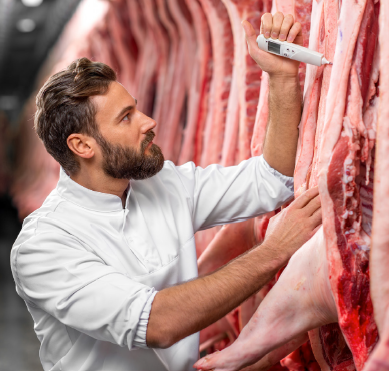 What responsibilities will I have?
Know and understand USDA grading standards and company merchandising specifications
Determine whether or not USDA grading on each carcass is in line with company standards
Evaluate carcasses using grading data and the hide color collected from slaughter
Utilize camera vision grading
Determine how carcasses will be merchandised by factors such as Quality Grade, Yield Grade, weight range, ribeye area, breed type, and candidacy for branded programs (i.e. Certified Angus Beef)
If determined that grading is inaccurate or unjustified, request re-grade from official livestock graders
Correlate grading with other sales professionals
Assist in merchandising meat products to food and meat retailers
Sort and group carcasses according to customer and retailer wants
Assist in areas of sales, credit, billing, training, and invoicing
Maintain refrigeration, spacing of carcasses, ribbing, and lighting in grading areas, reporting any discrepancies to the appropriate personnel
What education and training is required?
A bachelor's degree in animal science, meat science, agriculture, or a related field is most often desired to become a carcass merchandiser
To pursue a career as a Carcass Merchandiser:
The following high school courses are recommended: agricultural education, biology, animal science, anatomy, business courses, and mathematics.
Typical Employers:
Carcass merchandisers most often work for livestock production, processing, and sales organizations.
Future Job Market/Outlook
The future outlook for a carcass merchandiser will be good over the next five years.
Suggested Professional Organizations and Associations
American Association of Meat Processors
National Meat Association