Breeding Manager / Multiplication Manager
Overview
Breeding or Multiplication Managers are responsible for all aspects of a company or organization's breeding departments. In the swine industry, these professionals are known as Farrowing Managers.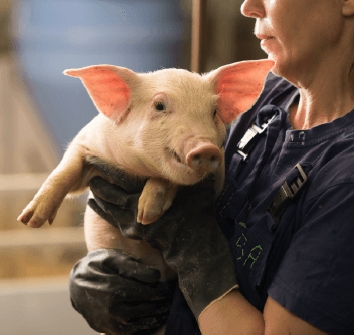 What responsibilities will I have?
Oversee the welfare, feeding, monitoring, record-keeping, care and day-to-day management of the animals in your department
Oversee room set-up and initial inspections for mother animals
Confirm that all animals have proper feed and water
Monitor and assist mother animals during birth
Monitor health of all animals
Oversee C-sections as needed
Manage proper euthanization to mother and baby animals
Warrant that vaccinations of mother and baby animals are completed
Manage weaning
Oversee that nursery processes are completed and that wounds are treated (tail length, castration, tattooing, ruptures)
Ensure proper ventilation to animals and assign heat lamp management
Schedule and assign tasks to meet production goals
Oversee general maintenance of facility including cleanliness, pest control, feed systems, power washing, etc.
Complete daily checks on security and alarm systems, and respond to them
Train and develop breeding staff
Keep records and paperwork of breeding, births, weaning, illness and disease, accidents, supplies and euthanizations
Maintain the highest level of animal health and welfare
What education and training is required?
A high school degree is required, but an associate's degree in agribusiness or animal science would be preferred.
To pursue a career as a Breeding Manager:
The following high school courses are recommended: agricultural education, biology, anatomy, computer courses and mathematics.
Where can I work?
Breeding managers are typically employed by livestock companies or large farms.
Future Job Market / Outlook
The future outlook for a breeding manager will be good over the next five years.
Suggested Professional Organizations and Associations
American Association of Swine Practitioners
American Association of Bovine Practitioners
Dairy Farmers of America