Assembly Technician
Overview
Assembly technicians assemble parts to the main machine or agricultural equipment while maintaining quality workmanship.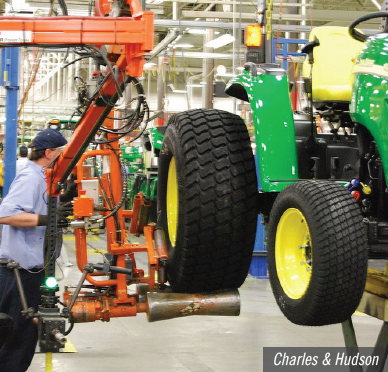 What responsibilities will I have?
Independently carry out general assembly procedures and work by assembly instruction sheets
Assemble subassemblies or parts of subassemblies to the main machine being worked on
Check and double check work and correct any assembly problems
Assist in planning assembly procedures and administer the completion of a machine
Conduct final functional tests to verify that the assembled unit operates properly and that it is of high quality
Read and understand blueprints, technical drawings, and specifications
Keep work area neat, clean, and orderly
Follow prescribed safety regulations
What education and training is required?
A high school diploma is required but an associate's degree in a power technology field (automotive, agricultural power, diesel, etc.) is much preferred.
To pursue a career as an Assembly Technician:
The following high school courses are recommended: agricultural education, agricultural mechanics, industrial technology, welding, and mathematics.
Typical Employers:
Assembly technicians are most frequently found in agricultural equipment or system factories or production plants.
Future Job Market/Outlook
The future outlook for an assembly technician will be good over the next five years.
Suggested Professional Organizations and Associations
Farm Equipment Manufacturers Association
American Welding Society
Association of Equipment Manufacturers