A Unique Strategy to Connect with Students on Campus: The AgCareers.com Agribusiness Employer Guide
A Unique Strategy to Connect with Students On-Campus:
The AgCareers.com Agribusiness Employer Guide
Hopefully your campus recruiting is done for the year and you are preparing for a swarm of talented interns to enter your workplace come May. Before you know it, it will be time to begin planning and strategizing for next year's on-campus branding plans. AgCareers.com offers a great tool to help enhance your efforts through the Agribusiness Employer Guide.
The Agribusiness Employer Guide is a magazine featuring some of the elite businesses within the agriculture industry that offer internships and entry level positions to students across North America. The publication will be distributed in hard copy to more than 20,000 students in the United States and Canada and even more through the online edition that is available. There is a US edition as well as a Canadian edition.
We'll soon be opening up advertising space to past advertisers and AgCareers.com partnership clients. Following that, we'll open the remaining spots to additional clients. To receive more information or to request an ad space,click here. Don't miss your chance to connect with college and university students throughout North America.
The Agribusiness Employer Guide is a supplemental piece to AgriMarketing magazine and was developed to be a resource guide for students to compare businesses within the agriculture industry and their opportunities for internships and employment. Each employer advertiser receives a full-page, four color advertorial where they can describe the benefits and types of opportunities that their organization has. See below for a full list of advertisers in 2010. Click here to see an electronic edition of the 2010 US Guide or 2010 Canadian Guide.
AgCareers.com distributes hard copies in bulk to over 100 agriculture-focused university and college career services offices as well as at many other industry events that team members attend. Each advertising employer receives 100 hard copies of the guide to distribute at career fairs and other events as they wish. While visiting campuses this past fall and spring, many students mentioned seeing or looking through the guide to learn more about companies.
The piece also contains a variety of helpful articles to help add shelf-life, and truly help the piece act as a guide for students as they go about their career search. Example articles from last year's guides included: 'Help I Can't Find a Job in This Economy; 'Navigating Financial Success for School and Beyond;' and 'Wonder What Employers Think.'
As we mentioned, a new round of campus recruiting is a ways out and the distribution of the Employer Guide is too – the guides are released in September. However, we have limited space in the Employer Guides, so we want to be sure that our clients are aware of the next steps and ensure that we include you on our potential advertisers list if you have interest.
Because we do have limited space we will be opening advertising sales on March 11, 2011 first to AgCareers.com partnership clients and past advertisers. Remaining spots will be sold beginning April 4, 2011. Advertising rates for the US edition are $2475/page and in Canada, $1875/page. Only full-page space is available. If you would like to participate in the 2011 US and/or Canada Agribusiness Employer Guide or have further questions, please contact us at agcareers@agcareers.com or 800.672.8552 x.28. Don't miss your opportunity to join an elite group of agribusiness employers through a top on-campus recruiting strategy – the 2011 Agribusiness Employer Guide!
2010 Agribusiness Employer Guide Employer Advertisers:
U S Agribusiness Employer Guide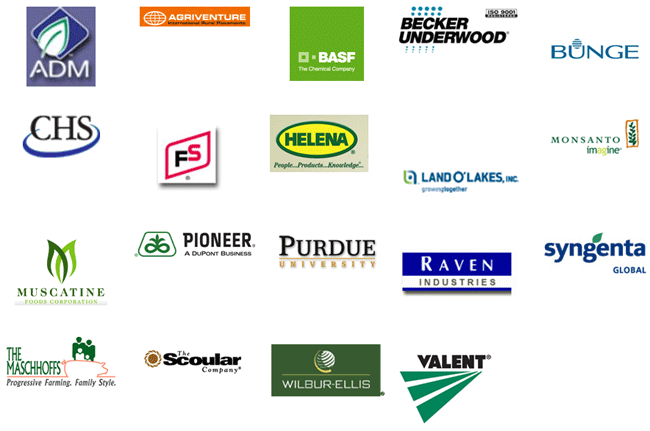 Canadian Agribusiness Employer Guide