Job Seeker Survey 2010: Insights on Recruitment in Agriculture

By AgCareers.com
Employers in the agriculture industry are interested in what job seekers think. To help employers learn more about how job seekers find out about job openings and why they choose to apply, AgCareers.com conducted an online survey of job seekers in the fall of 2010. More than 600 respondents from across North America completed the survey. Almost 75% of the respondents were from the United States, more than 25% from Canada and less than 1% from Mexico.
More than 50% of respondents had greater than 15 years of career experience and 73% had a bachelor's degree or higher.
Greater than 30% of respondents had been actively seeking new employment between 2 months and 7 months. The vast majority of job seekers look at job postings on a daily basis (see Chart 1), most frequently on industry specific internet job boards such as AgCareers.com.
Chart 1: How often do you look at job postings (online postings/newspapers/company websites, etc)?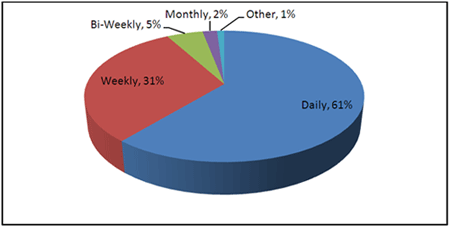 It is good news for our industry; nearly 90 percent of respondents felt that employment in the agricultural industry was more stable than, or as stable as employment in other industries.
Job seekers were asked why they were considering a career in the agricultural industry. Over 50% indicated they were considering it because they grew up with an agriculture background/on a farm, followed by they've always worked in an ag related occupation, and/or were optimistic about the future of the industry; see Chart 2.
Chart 2: Why are you considering a career in the agricultural industry?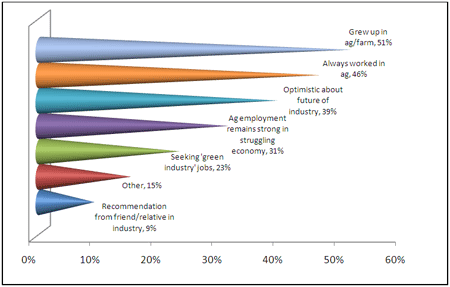 Posting resumes online has increased significantly in the past five years according to a previous AgCareers.com study; 76% of this survey's respondents indicated they have posted their resume on an online job board resume database. AgCareers.com provides the perfect opportunity for job seekers to post their resume for free. Businesses may elect the resume database search tool in their employer options. The new advanced resume search tools allow companies to search by job title, years of experience, location, skills/keywords, name, education, school, the date the resume was last updated, and much more. The resume database is an excellent tool to find the latest talent since half of respondents update their online resume every three months or less.
Which jobs will job seekers apply for?
Respondents said they prefer to search for jobs based on career type and then location. The job description, duties and responsibilities are the most crucial factors when job seekers chose to submit an application. Employers should keep their job descriptions detailed enough but not so long that job seekers need to scroll down. Important duties and responsibilities should be included in the description so they are easy to find in a keyword search. The second most crucial factor is location of the position. If an employer has multiple locations for a particular posting, they may want to separate them into multiple postings by specific cities, states or regions. See Chart 3 for a breakdown of crucial factors.
Chart 3: When selecting which jobs to apply for, which of the following is the most crucial factor for you?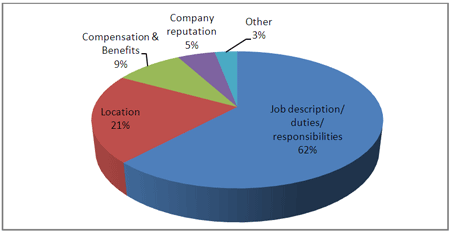 Reputation means a great deal to candidates. When respondents were asked specifically about company brand/image, nearly 80% of respondents indicated that the company brand/image was important or very important in selecting which jobs to apply for. Be sure your company is seen in a positive light. Use exit interviews and employee surveys to gain information that can be used to make necessary improvements to enhance your corporate image. Review your recruiting campaign and recruiting personnel to be sure they are projecting a positive image to applicants.
When applying online, job seekers said they were most discouraged from applying to certain jobs when the job description was short, followed by lack of salary information and then companies that didn't have websites to further explore the organization. Almost 30% also indicated that being re-directed to complete an online application was discouraging to them (see Chart 4).
Chart 4: When applying to jobs online, what discourages you from applying to certain jobs?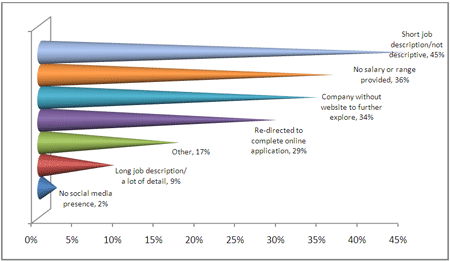 A company's lack of response to a job seeker's application impacts their decision to apply for future openings with that company; 78% of respondents said that a company's lack of response makes them very unlikely or somewhat unlikely to apply for future openings. Employers' response to applications is crucial in maintaining the positive image of their business. Employers posting on AgCareers.com can simplify this process by taking advantage of the free automated response to each application submitted.
Social Media in the Job Hunt
Companies' social media presence (Facebook, LinkedIn, Twitter, etc.) continues to grow. One-third of job seekers in our survey have used social networking as part of their job search in the last year. Of those that used social media, the highest percentage 'responded to a job posting they found via social networking,' followed by 'searched social media pages for job advertisements,' and then 'reviewed a company's social media page prior to applying' (see Chart 5).
Chart 5: If you have used social networking as part of your job search, which of the following methods have you used through social media to look for opportunities?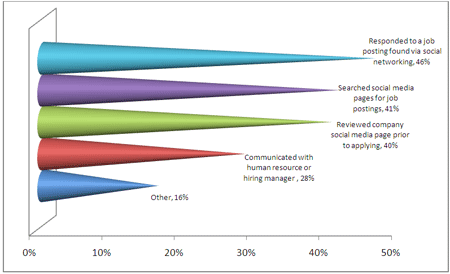 To obtain the complete Job Seeker Survey results, visit www.agcareers.com and click on "Resources/News" and then "Market Research." Questions? Email agcareers@agcareers.com