Five Strategies for Building a Profitable Agritourism Venture
By Colorado State University Online
Why consider starting an agritourism business?
Today's travelersseek new adventures and delight in local, authenticattractions. Whether it be to pick their own strawberries, a locally sourced farm-to-table dinner, a weekend on a dude ranch, or a tour of the inner workings of a farm, agritourism turns farms into destinations and generates new revenue streams.
Conduct market research
First, check with local and national organizations to determine if agritourism makes sense for you. The Chamber of Commerce, Small Business Development Center, and state tourism centers develop valuable information for businesses all the time. Ask about agritourism businesses and demographic data in your area to help assess your potential.
Network with agritourism business owners at conferences or workshops and experience established agritourism businesses first-hand to observe how their operations run. Ask what works for them and what they would do differently if they were starting out again. Find an owner who will share successes and failures.
Develop a relationship with the owner and talk about best practices.

Consult with potential customers. Ask them what products, services, and activities they'll pay for. Put together a small group of potential customers to test out activities and sample your products and services in exchange for honest feedback. Learn what they value and how to provide them with a memorable, engaging experience.

Create a detailed business plan

Tell a story with your business plan.
Define you, the owner, as well as your purpose and mission. Set expectations of success and describe your goals and objectives. Include the following components:
Business overview - concept, size, location
Products and services - pricing, costs of goods and profit potential
Competitive analysis – who are your competitors, where are they, what do they offer
Market potential – market area, target market, niche, ideal customer
Marketing strategy – advertising, signage, brochures, brand
Operation/management plan – production, personnel, suppliers
Financial strategy – profit and loss projections, balance sheet, cash flow, 3-5 year projections
Review your business plan every six months, evaluate, and adjust as needed. Make your business plan a living document that adapts and grows with your business.
Budget for necessary infrastructure
Analyze your infrastructure to determine necessary updates.Start with your local government and determine zoning requirements. Do you need to budget for fences, a new parking area, or portable toilets? Can you repurpose current buildings on your land at a minimal cost? Do you need to invest in infrastructure to reduce risk and provide for a safer environment for guests?
Evaluate your current activities and structures and determine how you can monetize them. Take stock of your resources; land, financial, and labor to assess future needs based on your business plan. Budget up front to keep on plan and limit surprise expenses.
Understand your ideal customer
Define your ideal customer and start to build all aspects of your marketing around attracting and delighting them. Set a goal to provide products and services that make your ideal customers happy and solve a problem.Create an experience that your ideal customers want to come back for more, tell others, and become loyal fans. Consider the following when you define your ideal customer:
Demographics – age, income, marital and family status, education, where they live
Psychographics – motivations, fears, aspirations, values, worldviews, challenges
Communication – where do they get information, how do they interact, when do they engage
Focus your marketing, time, and energy around those that truly love your business – your ideal customer.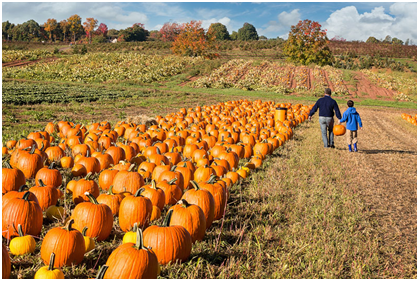 Legal protections and insurance
Determine the best structure for your business with a lawyer who can also help file necessary documents with state and local governments. Review your land, products, and services with an insurance agent to make sure you have the best coverage in the event of a loss.Consider seeking professional advice in these areas as well:
Licensing
Environmental regulations
Special permits
Trademarks and copyrights
ADA requirements and compliance
Food safety and environmental regulations
Land use rights/li>
Taxes
Planning and zoning
Seek out professionals that specialize in agritourism and are willing to invest time in getting to know your business operation to help manage finances and comply with local laws and regulations.
Gain further insights by obtaining your Agritourism Management Graduate Certificate online at CSU. Learn in-depth knowledge you need to successfully plan and manage an agritourism operation in a program developed by experts with significant experience in the tourism industry. Complete coursework in an online format with a flexible schedulefrom the comfort of your farm, vineyard, or guest ranch. Get started today and take your agritourism business to the next level.
Learn more at www.online.colostate.edu/certificates/agritourism-management