Compensation Benchmarking
Compensation Benchmarking
By AgCareers.com
Compensation is a crucial expense that affects organizations' bottom line.
Compensation is essential for attracting and retaining top talent.
Compensation is vital to success in the competitive marketplace.
AgCareers.com can help businesses develop and maintain an effective compensation structure with the COMPENSATION BENCHMARK REVIEW ™ (CBR). This comprehensive tool equips companies to manage the toughest compensation challenges.
Data from the CBR is ag-specific, confidential and available via the AgCareers.com online database. Data can be utilized by companies large or small and has various levels of reporting including auto-benchmarking capabilities. Base salary and benefit data is captured and can be sorted by location, sector type, and company size.
Click on the video below to learn about the top reasons a company should review compensation and benefits: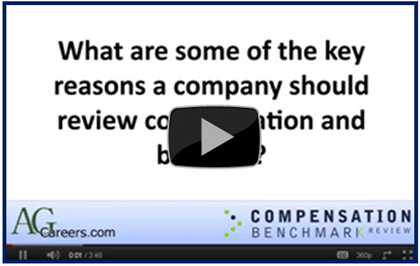 Contact AgCareers.com today at 800.929.8975 or at compensation@agcareers.com to subscribe and mention coupon code (CBR1112) for $200 off current subscription rates.