Boosting Your Scientific Career With Business Skills:
The Online Master of Science in Seed Technology and Business at Iowa State University
By Virginia Zantow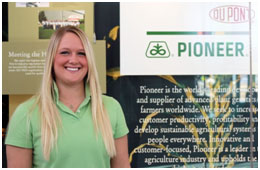 Four years ago, JoJo Martinac felt that if she didn't get started on a master's degree program, she would never end up getting her master's degree. At the time, she was working as a research associate at DuPont Pioneer.
Now, having completed her studies in the Online Master of Science Program in Seed Technology and Business from Iowa State University she will graduate in May of 2014.
"With the Seed Technology and Business program, the professors understand that you're working," Martinac says. "Their flexibility helps out a lot." Along with all the new knowledge Martinac has gained in those four years, she has also gained a new position at DuPont Pioneer as a team leader in transformation support.

"Part of the reason I did get that job was that I was finishing my master's in the Online Seed Technology and Business program," Martinac says.

The Master of Science in Online Seed Technology and Business program incorporates both business courses and scientific courses into its curriculum, positioning students like Martinac for leadership roles in the seed sector.

Taking MBA courses as a part of her graduate education was eye-opening for Martinac, as someone who worked in scientific research with a Bachelor of Science in Microbiology. She found the business-infused approach of the online program unique.

Working for a company like DuPont Pioneer where the goal is to achieve a final product necessitates some business skill, especially for people in leadership positions. Martinac says she learned how to make business decisions in a scientific environment from her online studies.

When Martinac worked on her creative component - the non-thesis final product of the Online Master of Science in Seed Technology and Business - she found that she could directly apply what she was learning to her work at DuPont Pioneer.

"Working for a larger company, you have these processes in place that you don't really question. And that creative component part really got me to ask questions that I wouldn't have thought to ask before, making that learning experience extremely beneficial," Martinac says.

In addition to the Online Master of Science Seed Technology and Business program, Iowa State University AgOnline offers a variety of online master's and certificate programs, including a Seed Science and Technology Graduate Certificate and a Seed Business Management Graduate Certificate, both of which are shorter programs than the full master's featured here but can be applied toward this master's program if students wish to pursue the full degree.

Diverse Programs: Diverse Students

Iowa State University AgOnline is dedicated to online learning. We provide quality instruction and course content to students regardless of geographic location. All students pay resident rate tuition for online programs and courses.

Master of Science in Agricultural Education: This program is designed for agriculture teachers in secondary and post-secondary settings, extension professionals, educators in public and private settings, and agricultural communicators.

Master of Science in Agronomy: This degree ensures you have an advanced knowledge of agronomic systems and superior problem-solving skills. The program emphasizes practical, professional and technical skills involved in crop management, soil and water management and integrated pest management.

Community Development Master's program: This program is designed for community leaders, practitioners and for individuals who value community. It provides the skills, information, and networks needed to facilitate sustainable and prosperous community change. This degree program equips practitioners with the tools necessary to build community for the 21st century.

Food Safety and Defense Graduate Certificate: There is an urgent need for online education for food industry personnel who would like to pursue in-depth specialized training in food safety and security. It is intended for graduate students and food-related professionals who desire advanced education on how to effectively deal with food safety and biosecurity issues.

Master of Science in Plant Breeding: The Master of Science in Plant Breeding provides the same rigorous curriculum as the resident program, including access to plant breeding faculty within the Department of Agronomy. Students completing the program will understand not only the fundamentals of plant breeding, but also gain knowledge of advanced concepts such as genomic selection and the challenges facing plant breeders in our global society.

Master of Science in Seed Technology and Business: This program is focused on preparing students for management roles. Designed for professionals working in industry and government, the degree ensures an advanced knowledge of seed science, technology and basic business and problem-solving skills.

Seed Science and Technology Graduate Certificate: This program is designed for seed sector professionals with a business background who want to better understand the technical side of the seed industry. The curriculum presents a current picture of seed production and use, plant breeding and plant biotechnology.

Seed Business Management Graduate Certificate: Designed for professionals seeking to advance in the seed and agricultural biotechnology business and regulatory agencies, this program offers graduate-level management and leadership courses and explores economic and ethical issues surrounding regulation.

Swine Science Online Certificate: Swine Science Online offers education and training of future pork professionals to benefit the pork industry by inspiring a career interest through academic training and application. The Swine Science Online vision is to ensure that the Pork Industry is led and managed by individuals who have broad educational and production experiences which have prepared them for these roles. All students who complete the 12-credit curriculum will be eligible to apply for a Swine Science Certificate through the U.S. Pork Center for Excellence.

For more information about online learning from the College of Agriculture and Life Sciences at Iowa State University check out: http://www.agonline.iastate.edu

Or contact:
Michelle Zander
agonlinehelp@iastate.edu

515-294-7656