Be Aware of the Leadership Extremes
Be aware of the Leadership Extremes
By Eric Spell, AgCareers.com
The impact of leadership can be very profound-I think everyone would agree with that statement. Given the variation that exists in leadership styles and preferences, I find it useful to look at leadership styles in two extremes. For example, in both Image 1 and 2, you will note there are two styles of management labeled "X" and "Y."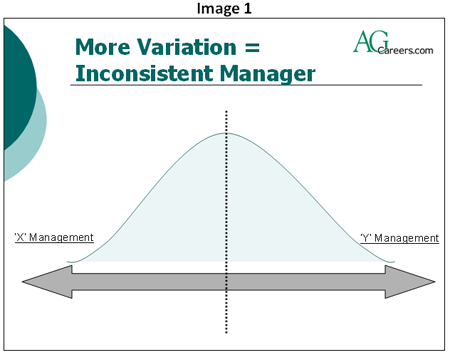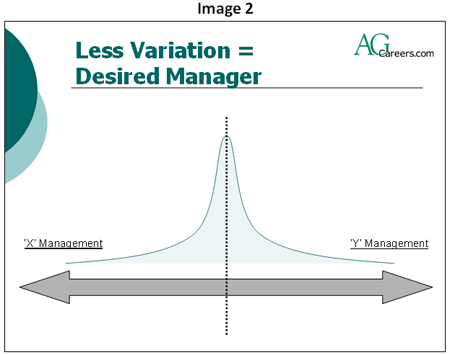 In Douglass McGregor's theory on X/Y Management, he described X style of management as being more dictatorial/autocratic. He suggested the Y style as being more team oriented/delegating. Over the years I have concluded that residing in either of these extreme styles of management/leadership can have negative consequences. Having said that, there are circumstances at work and even occupations that more than likely will involve a leadership style that is more "left of center" as you view the X/Y scale. Such workplace circumstances might include: safety, disciplinary matters, etc. Occupations such as the military, law enforcement, school teachers/principals would likely be on the "X" side as well.
Leading from either extreme can be costly in a normal everyday working environment. Consider the following consequences of a working environment that has an extreme X leader:
Staff fearful to disclose mistakes
Lack of innovation from staff
Succession planning limited to a few
Limited staff development
Boring working environment

On the other side, consider the following effects from an extreme Y led working environment:

Too much talk about "team"
Too much "rope" given to those not prepared
Not enough accountability—loose spending
Perhaps a great deal of training education/training happening—not enough focus on execution.
Likely a fun but chaotic environment

Given the fact there are situations in all working places that require both "left of and right of" center leadership actions, I would propose that the goal of all managers should be to strive to a consistent leadership style with low variation. Notice Image 2 has a bell curve that illustrates much lower variation than that of in Image 1. As you consider your team, you likely have people that you can delegate/trust more than others. Those individuals will likely be led by you 'right of center". There may be others that will require more time and close supervision or a "left of center" style of leadership.

The impact of leadership by an individual or a board of directors can be very profound and needs to be evaluated on a constant basis. The goal should be to avoid the extremes for long periods of time. Strive for a consistent leadership style that yields an innovative, motivated, and challenged culture. If your current culture is far from a desired level of productivity and you're concerned with why talent is choosing other places to work, it may well be time to make a move from "one of the extremes!" Strategically moving from either extreme requires careful planning and different approaches. For example, it takes more time to move from an "X" led environment than it does from an extreme "Y" led culture. The reason is, the "X" led environment is likely profitable and people are used to being doers and not thinkers.