Building careers and knowledge via Virginia Tech's online masters of agricultural and life sciences program
Chad Benton was always interested in two things: science and helping people.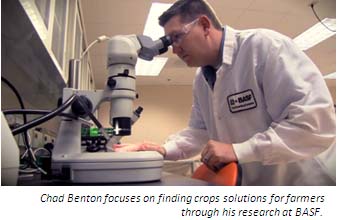 After getting an undergraduate degree in biological sciences and microbiology, Benton, of Morrisville, N.C., got a job at BASF, where he is now a senior associate scientist on the crop physiology team dedicated to finding ways for farmers to increase their yield. Having been raised on a farm with his grandparents, Benton felt a calling to give back to the farmers.

Still, Benton wanted to boost his knowledge of plant science - and to advance his career even further - so he enrolled in the online Master of Agricultural and Life Sciences (OMALS), a degree program through Virginia Tech's College of Agriculture and Life Sciences.

"This was an outstanding experience all around for me," said Benton, who graduated in 2012 after three years in the program. "There are many things that I gained from this program, but one of the biggest was confidence in my research and job."

Students from across the country and abroad enroll in OMALS courses every year. The program is uniquely designed to meet the evolving and dynamic needs of today's agricultural professionals with five focused concentration areas, including food safety and biosecurity, environmental science; plant science and pest management; education; and leadership studies.These areas represent the breath of agriculture and life sciences in both theory and in practice.

"The concentrations are designed to incorporate new technologies in the dynamic industries of agricultural and life sciences in an accessible delivery format," said James Anderson, program director."A major benefit of the program is that students have the flexibility to design an individualized planconstructed around their academic interests and professional needs," he continues.

Agriculture represents the largest industry in Virginia and employs 22 million American workers. Anne Barker-Smith, of Richmond, Va. and a 2010 graduate of the OMALS program, represents this audience. After earning her undergraduate degree from Virginia Tech in 1982, she was excited to pursue her masters in the food safety concentration due to the fact that she did not have to uproot and leave her job. "I took one class at a time. It took four years, but I am so very proud of the accomplishment," notes Barker-Smith.

During that time, she developed a rapport with her professors and classmates, which she attributes to the structure of the classes. "We had some group projects and we also had lots of chat room and posting opportunities that helped to establish connections,"remarks Barker-Smith. "I have become good friends with two of my classmates and met them in person at professional events after we all graduated."

Barker-Smith is a food safety consultant who owns her own practice. "I think having my undergraduate and graduate credentials demonstrate a number of things to my clients. First I have been educated in food science and technology and have updated my knowledge, keeping current as a lifelong learner. Second, this education has provided me the opportunity and experience to participate in projects where the expectation is to have a higher level of professional and personal development."

Both Benton and Barker-Smith credit their graduate experience for enriching their day-to-day work.

"I enjoyed having a purpose behind the learning and I try to instill that in my everyday life now. As a consultant I have to stay on top of best practices, current regulations, and science," says Barker-Smith.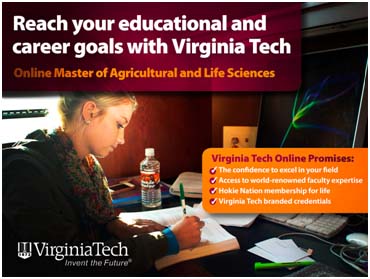 Interested in learning more about the online masters of agricultural and life sciences? Visit the program site, or contact James Anderson, program director, at
540-231-2608 or Jennifer Carr, educational support specialist, at
540-231-8127.