Taking Lessons Straight to Work in 4-H
By the University of Florida
Advancing your degree is an obvious benefit to your career, especially if your goal is a career where advanced education is a requirement for consideration. The process can also be beneficial for accomplishing tasks in your current career that will help in your journey up the ladder. Often times assignments for class produce tools, examples and other resources that can be used in your day-to-day work projects. For many this is an advantage of choosing to pursue an advanced degree while working. The ability to utilize your school work in your job helps accomplish two goals at once. Below is the story of one successful employee/graduate student who used her graduate assignments to make a difference at work while climbing the ladder.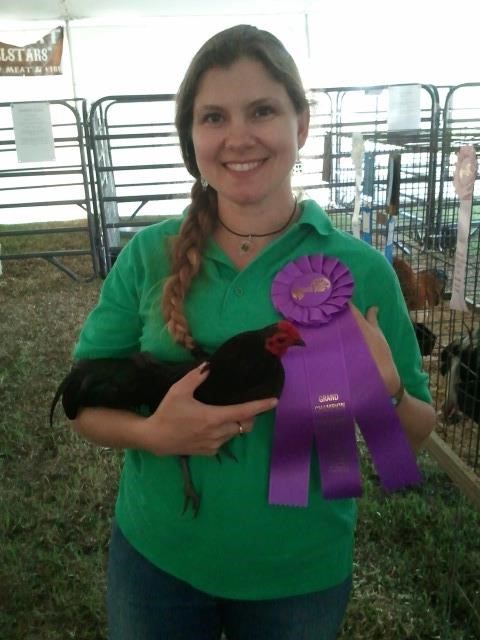 Prudence Caskey is a familiar face to 4-H families in the Florida panhandle. Her contributions to educational programs have seen her rise from the Program Assistant to the 4-H Extension Agent in Santa Rosa County. Prudence facilitates a wide variety of programming in the area including day and overnight camps as well as opportunities to participate in 4-H leadership experiences at the capitol in Tallahassee and at the University of Florida in Gainesville. When Caskey began as a Program Assistant, she knew she would need to gain skills to propel 4-H forward in her area and began her studies with the Department of Agricultural Education and Communication (AEC) at the University of Florida in the spring of 2013.
From the online classroom to "Fund a 4-H'er!"
With a high level of commitment to the quality of her work, Prudence chose to take one course a semester and will graduate this summer. Over the course of those years, she found that the coursework could be applied directly to her work in youth development.
"Nothing I did went to waste," Caskey said, products developed for classes went straight to work in Santa Rosa County and beyond.
Caskey recognized the need to help fund her 4-H youth to encourage greater participation in events that can total well over a thousand dollars for an active 4-H'er during the course of a year. While taking Instructional and Communication Technologies in Agricultural and Life Sciences with Dr. Ricky Telg, her major assignments for the course involved developing a project with three components utilizing design skills taught in the course. Prudence developed a fundraising campaign that includes a print brochure, a web page, and a short video to educate and encourage donors to "Fund a 4-H'er!" at several different levels. As Prudence developed these products, she had the insight of both her professor and peers to revise and edit her pieces. The development of this fundraising campaign has allowed many young people to attend programs that they otherwise would not be able to.
Curriculum … deeply connecting with and contributing to work
Dr. Hope Kelly, the Online Master of Science program coordinator notes, "This is by design. The faculty here in AEC developed the curriculum with the goal of deeply connecting with and contributing to the work of our part-time students engaged in full-time work all over the country." She went on to note that all the students share this experience whether they are working in cooperative extension, middle or high school settings, or in other areas of agriculture and natural resources. "I find our students have the flexibility and the encouragement to make the assignments work for them and the diversity of their non-thesis projects is an indicator of the applicability of the knowledge and skills they are developing across ag and natural resource contexts."
To learn more about UF's Online Master of Science program in Agricultural Education & Communication visit their e-Learning page.