Take-Away Tips from Industry Experts
AgCareers.com Ag & Food HR Roundtable
By AgCareers.com
Experts in their fields, distinguished professors, and agriculture influencers will share their knowledge with 2018 AgCareers.com Ag & Food HR Roundtable attendees. Join us in Tulsa August 7-9 at the premier event for HR and educational professionals in agriculture and food.

The conference will feature plenty of learning opportunities examining recruitment and retention specifically in our industry. Plus, the combination of HR and educational professionals provides a unique and rewarding networking experience found nowhere else.

Participants will take-away tips they can share with their teams and put into action. Brooke Clay, Rural Gone Urban will discuss digital strategy and how to leverage the 'digital world' for recruitment branding. Learn how to engage with diverse online audiences and how to make digital work for your organization.

Leaders will also benefit from Rich Feller's discussion on career development throughout the lifespan. Feller is a professor and distinguished teaching scholar at Colorado State University, who has also served as President of the National Career Development Association.

Adrienne Martinez from the University of Central Oklahoma will bring participants up-to-speed on harassment in our industry. Not just in Hollywood, this topic can be found almost everywhere within the human resources profession, from on-campus recruiting to compliance training.

Check out the complete schedule and more details about our Roundtable presenters.

Get Credit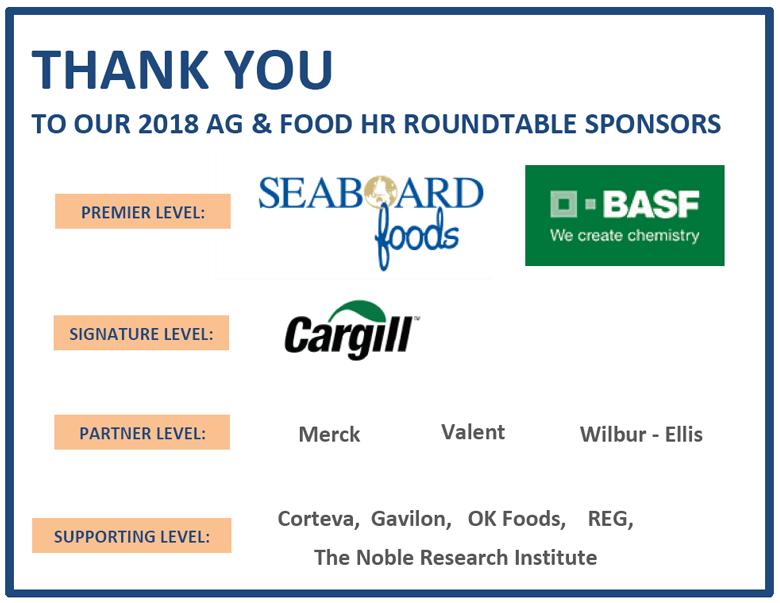 Continued education credit is another benefit of attending the Ag & Food HR Roundtable. AgCareers.com is approved as a Society for Human Resource Management (SHRM) Recertification Provider. SHRM authorized AgCareers.com to offer programs and events for SHRM professional development credits (PDCs) for the SHRM-CPSM or SHRM-SCPSM.

As a Recertification Provider, AgCareers.com is committed to offering high-quality programming, developed and presented by appropriate subject-matter experts. This eliminates the guesswork for SHRM credential-holders, who know by AgCareers.com's status that their educational programs qualify for recertification credits.

This program will also be submitted for recertification credit hours through the HR Certification Institute.

Find out more about the Roundtable and register now to receive the discounted price.