Sneak Peek: The New AgCareers.com Coming Soon
AgCareers.com is proud to introduce a fresh, new site design. AgCareers.com has experienced tremendous growth and has continued our commitment to providing valuable content and resources on the site. Increasing numbers of employers look to the site to connect them with top talent in the industry, and more candidates are finding job search success with www.AgCareers.com.

Get your sneak peek of the new www.AgCareers.com to be launched soon: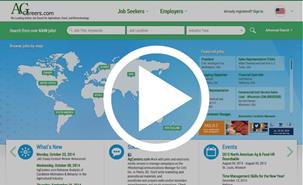 With over 11 million page views on the site each year and the continued growth of AgCareers.com, it was time for an update. AgCareers.com focused on creating a more simplified user experience for both job seekers and employers.

Coming soon, AgCareers.com will unveil a brand-new look and features, including:
Streamlined navigation with easy-to-use drop-down menus
Simplified job search area
Improved search results page
More easily accessible resources and tools
Increased flexibility to add more dynamic content
With growing numbers of traffic from mobile devices, particular attention was paid to streamlining this on-the-go process for users of www.AgCareers.com . Job searching and helpful information are now even more easily accessed on the mobile site version.

This weekly e-newsletter, a valued resource for so many in the AgCareers.com community, will also be getting an updated look soon.