Building Knowledge and Dreams in the Virginia Tech Online Masters of
Agricultural and Life Sciences Program
By Virginia Tech
Jennifer Nelson was seemingly living every food fanatics dream when she decided to enroll in Virginia Tech's online Master of Agricultural and Life Sciences program.
She was living in Naples, Italy, otherwise known as the birthplace of pizza.
But something was not quite right.
Aside from being known for the savory global sensation that became what we know as pizza today, Naples was also known for widespread environmental hazards.
It was then the former Hokie who graduated in 1997 with a degree in human nutrition, foods, and exercise became interested in tackling food-related matters again.
"I thought, 'If it's this bad here, what's it like every where else in the world?,' said Nelson. "I was originally in another master's program, but food safety seemed like a logical choice after I thought about the fragility of food security in my own surroundings in Southern Italy," said Nelson. "The online masters program was also very convenient for me since was able to attend class virtually from overseas. There aren't many graduate-level programs for agriculture that you can take online."
Indeed, students from across the country and abroad enroll in OMALS courses every year. The program is uniquely designed to meet the evolving and dynamic needs of today's agricultural professionals with five focused concentration areas, including food safety and biosecurity, environmental science; plant science and pest management; education; and leadership studies. These areas represent the breadth of agriculture and life sciences in both theory and in practice.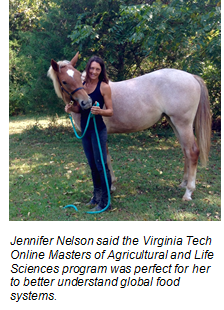 "The concentrations are designed to incorporate new technologies in the dynamic industries of agricultural and life sciences in an accessible delivery format," said James Anderson, program director. "A major benefit of the program is that students have the flexibility to design an individualized plan constructed around their academic interests and professional needs," he continues.
When Nelson graduated from the OMALS program she put her knowledge to use in an entrepreneurial endeavor.
Having moved back stateside, she bought a farm in Spotsylvania, Virginia with a rich historical past that dated back to 1760, and even served as a hospital during the Civil War.
She is currently restoring the property to its original grandeur.
"I cried when I set foot on this property," said Nelson. "It was meant to be mine. I still have a lot of the original historical documents from when this was a functioning farm in the area. My goal is to make the farm a living farm again.
She has planted a large garden and harvested blueberries, raspberries, carrots, and other produce this summer. This past winter Nelson housed ducks in her bathtub.
She also plans to restore the property's greenhouse keeping in mind sustainability methodologies she learned during her OMALS classes, such as
"I use a lot of organic pest management techniques that I learned as student in the OMALS program," said Nelson. " I knew about pest management but not the specifics."
Though a former avocado farmer, Nelson does not have plans to start a large commercial agricultural operation. She does plan on making the property a family farm again and in that regard playing a part in participating in Virginia's number one industry.
And as an OMALS graduate Nelson will be well prepared.
"The only regret I have about the OMALS program is that I wish we could have had more time to take more classes. I feel like I just scratched the surface and there is so much to learn about all aspects of agriculture. I learned so much about trends in biotechnology and food safety, but it would be great to learn more about soil management. This program only made me want to learn more."
Are you interested in learning more about the online masters of agricultural and life sciences? Visit the program site, or contact James Anderson, program director, at 540-231-2608 or the program coordinator, at 540-231-6503.