Navigating the Application Process
By AgCareers.com
Even though a job search can seem exhausting, AgCareers.com is driven to simplify the user experience and apply process for job seekers. We wanted to give you some tips to navigate the process efficiently and work towards landing that job!



Many employers utilize an online applicant tracking system (ATS) to manage the flow of applications, sort through the numerous applications they receive, and ensure applicants meet required criteria. You'll recognize employers that do this during the apply process on AgCareers.com when you see a note at the bottom of the first apply page that says, "This employer requires candidates to submit a resume through their online career site, please click below to be redirected to the employer's website." When you click to continue, you will be redirected to their site to complete the process. Please watch for a new screen to emerge and fill out the required information on the employer's site. Some companies will also require you to set up an account on their career site before you can complete the application.



Cite the original source where you found out about the job in your cover letter (e.g. "I learned about this opportunity through AgCareers.com."), or if asked throughout the employer's application process.

Make sure to build keywords from the employer's job description into your resume. The technology within the ATS system is designed to search your resume for particular keywords and phrases that match the job they are trying to fill. If your resume doesn't include these keywords, it may never make it into the hands of the hiring manager. However, be sure not to go overboard!

Make your digital resume more ATS-compatible by eliminating graphics, borders, text boxes, tables and other special formatting. Use basic web-friendly fonts such as Arial, Helvetica, Times and Verdana. Include your full name in the title when you are saving the file, such as "Camille Peterson Resume." This prevents your resume from being lost with all the other files employers receive that are saved only as "resume.doc."

Typically employers using ATS systems do not have the application process optimized for mobile devices. If this is the case, AgCareers.com will give you a notice and the choice to save the job or email it to a friend. You'll then be able to apply on a desktop/laptop computer.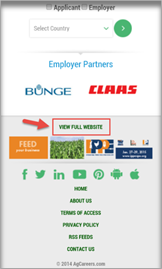 You may have observed a difference when you view the new AgCareers.com site on your mobile device vs. your desktop computer. When viewing the site on your smartphone or tablet, it will default to the mobile-friendly version. The mobile site has been streamlined for the job search process. If you'd prefer to use other advanced options, you may want to view the full site. You can do this simply by scrolling down to the middle of the mobile site and clicking "VIEW FULL WEBSITE."