K-State Graduate Creates Technical Rescue Protocol
By Grant Guggisberg, Kansas State University Global Campus
For emergency first responders, proper training can be the difference between life and death.

In a multi-vehicle car crash, it's expected that emergency personnel be properly equipped to help anyone in either vehicle. But in some cases, it's not just humans that need care. Responders must also be prepared to help animals, both large and small.

This process can be tricky, however, in the case of a wrecked horse trailer.
That's where Michael Connell comes in.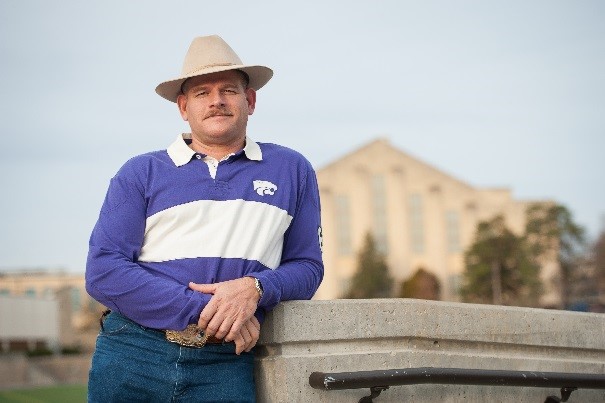 The Reno, Nevada, native has been working with animals for years, but only recently turned his hobbies into a full-fledged career. A veteran of the U.S. Air Force and Army, Connell developed Nevada's technical protocol for large animal rescue while working toward his bachelor's degree in animal sciences and industry online through Kansas State University Global Campus.

Connell has spent much of his adult life balancing his love of rodeo and animals with his military service career, but his retirement at the end of 2016 from the Army changed all that. Now he has time to chase his dream of using his animal sciences degree and becoming a rancher.

"I've got a number of different directions I can go," Connell said. "Initially, I was thinking I would start my own cattle operation, but because I work in emergency management now, it's opening up other opportunities. I work some as a contractor for the state in my spare time, driving all over Nevada, teaching technical rescuing with overturned trailers and things like that. It's opening up doors and I'm now kind of in a quandary of not knowing what to do next.

"There are a lot of opportunities out there."

Connell is a man of many interests. In addition to his military service, he is a trained farrier (horse-shoer), a skilled bagpiper, and he makes and sells his own rodeo equipment.

"I've got way too many hobbies," he said, laughing. "I'm just ecstatic with the opportunities K-State has afforded me."

Connell took an interest in rodeo during his time with the Air Force while stationed in Arkansas. He worked part time at a ranch and was immediately "bit by the agricultural bug." That's when he went to farrier school and began shoeing horses in his spare time.

His love of cowboys and the rodeo continued, but he quickly learned it was no way to support a family. After he got married, he rejoined the service, opting to start with the Nevada Army National Guard and then enlisting in a full-time position with the Army. Following a tour in Iraq, Connell began contemplating his future. He enrolled at American Military University studying military history, but wasn't sold on the program.

"My older brother got cancer and it kind of did something to me," Connell said. "It shocked me. I said I need to do what I really love doing, and I decided to switch degree programs."

He soon found K-State's online animal sciences program and enrolled, utilizing the flexibility and convenience of studying from a distance while continuing to live and work in Reno. He completed his degree in 2015.

Because of the success of his technical rescue protocol, Connell has traveled across the nation teaching others. He also wrote a chapter in a textbook about large animal rescue, and he even helped teach a class on the subject in Toronto.

At the end of the day, though, Connell is a cowboy and prefers the serenity and calm of life on the ranch.

"I absolutely love working with the livestock," he said. "It's why I've been shoeing horses for so long. I get a lot of peace handling them, working with cattle, working with goats and sheep. It's a lot of satisfaction and a lot of peace that I get working with them."
For more information on the agricultural programs offered through K-State Global Campus, visit global.k-state.edu/ag.