Expand Your Brand on Campus
AgCareers.com 2015-2016 Ag & Food Employer Guide
If you are looking to expand your on-campus brand, consider the cost of a campus visit that reaches a single school versus the impact of participating in the Ag & Food Employer Guide to reach nearly 200 universities, colleges and educational groups across North America.

Even with the best efforts, it is hard for an employer to get their brand and career opportunities in front of all the talented students spread across many colleges and universities. Let AgCareers.com assist you in connecting with students and boosting your on-campus brand with the AgCareers.com Ag & Food Employer Guide. Check out our list of educational institutions that distributed the latest edition of the guide. Don't see an institution your company would like to target? Let us know and we can add them to our distribution list.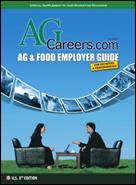 If you are interested in being one of the featured elite businesses, review our media kit for more information.

The Ag & Food Employer Guide is a supplemental piece to Agri Marketing magazine and is a career resource for students and professionals across North America interested in careers within the agricultural industry. The Employer Guide provides branding recognition for leading ag and food organizations; a direct connection to students and professionals interested in ag and food careers; and educational content that engages and sustains readership.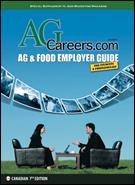 The Ag & Food Employer Guide is directly distributed to more than 7,500 professionals through collaboration with Agri Marketingmagazine, as well as to more than 16,000 students in North America via hard copy through university and college career services offices, and at career fairs, tradeshows and other AgCareers.com campus programs. The Employer Guide is also available online.

This is a unique opportunity for businesses to feature a branded profile dedicated to building a pipeline of talent through promoting internship and entry level programs/positions. The profile also promotes the overall company brand in a directory of elite industry businesses. Advertorial space is limited. Each employer advertiser receives a full-page, four color advertorial. AgCareers.com publishes a U.S. edition and a Canadian edition.

The guide provides helpful career search advice with informational articles on resumes, interviews, references and other hot topics. This variety of editorial content extends the shelf-life of the piece, and truly helps the publication become a guide for students as they go about their career search. Example articles from last year's guides includes: "Make Them Remember You," "The Reality of Relocation," and "It's Not So Bad to Start at the Bottom." The publication also features a listing of advanced education opportunities and institutes for agriculture.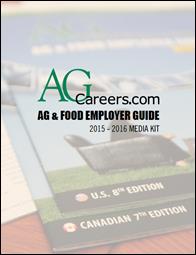 Don't wait, space is limited. The Employer Guide is distributed with the September issue of Agri Marketingmagazine with artwork due in early July. Advertising rates for the US edition are $2,500/page and in Canada $1,900/page. Only full-page space is available. Each participating organization will also receive 100 copies of the Employer Guide.
If you would like to participate in the 2015-2016 U.S. and/or Canada Ag & Food Employer Guide, or have further questions, please contact Bonnie Johnson at
bonnie.johnson@agcareers.com;
or 800.672.8552
.