Dynamic Lineup of 2017 Roundtable Presenters
August 1-3, 2017 • Kansas City, MO • Register Today for the Early Bird Discount
Best-selling authors, human resource experts, strategists, consultants, ag industry and government professionals, and collegiate representatives will share their knowledge as speakers at the AgCareers.com 15th Annual North American Ag & Food HR Roundtable. Have fun, network, and learn about agriculture and HR trends from our engaging presenters.
The Ag & Food HR Roundtable is the premier North American event for HR and educational professionals that provides relevant content examining recruitment and retention specifically within the agriculture and food industries. Register now for the 2017 Ag & Food HR Roundtable to receive the early bird discount.
The AgCareers.com 15th Annual Ag & Food HR Roundtable will be held August 1-3, 2017 in Kansas City, Missouri. The Roundtable is a great educational opportunity, but participants also say the networking opportunities are priceless. Last year more than 200 professionals joined in this one-of-a-kind event.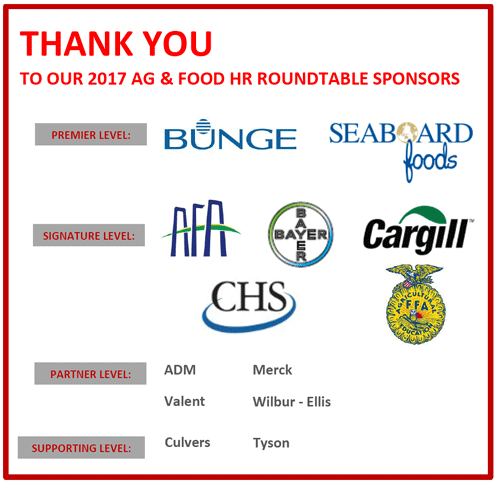 In its fifteenth year, the level of content and educational resources Roundtable participants receive is unmatched in our industry. AgCareers.com is pleased to announce the speakers for the 2017 North American Ag & Food HR Roundtable:
Diana Kander, Innovation Catalyst
Andrew McPeak, Growing Leaders
Chad Bontrager, Kansas Dept. of Agriculture
Mackenzie Wilfong, Tulsa Community College
Cynthia Kyriazis, Productivity Partners, Inc.
Mike Blumenthal, Seygerth, Blumenthal, and Harris, LLC
The agenda also includes panels of knowledgeable industry and career services staff.
This year's topics will set the stage for what is sure to be a noteworthy event. The 2017 Roundtable Organizing Committee met in December to help provide input and select hot topics that human resource professionals, managers, university/college staff and associations within the agriculture industry are currently facing. Some of this year's topics include:
PITCH! Bringing Innovation to the Workplace
Communicating through Mergers and Acquisitions
Mental Illness in the Workplace
Managing Employee Data through the Hiring Process
Productivity Accelerators for the Workplace
The Government's Influence on Human Resources
Work Doesn't Have a Syllabus
The Future of our Workforce: Generation Z
Check out the conference webpage for a full schedule of educational sessions and other details.
Beyond the traditional educational sessions, the Organizing Committee planned another year of fun, social events to get in plenty of networking, including a Welcome Reception, Table Topics Breakfast, Networking Dinner at the famed Boulevard Brewing Company, and the new Ask the Expert Breakfast. Some of the optional activities require registration in advance as space is limited.
Complete your registration now and receive the early bird discount. If you have any questions, please email agcareers@agcareers.com or call 800.929.8975. We look forward to seeing you in August at the Roundtable!