Cultivating Your Future: Online Graduate Programs Support Recent
Grads and Working Adults Alike
By Iowa State University
Everyone has heard the statistics and headlines like this: Graduate degree holders make $17,000 more per year than bachelor's degree holders. It seems easy to recognize the value in earning a master's degree, but it can feel difficult to commit, especially for adults already working full-time. To meet that need, colleges and universities have designed flexible, online graduate programs to help students earn a graduate degree on any schedule, anywhere in the world.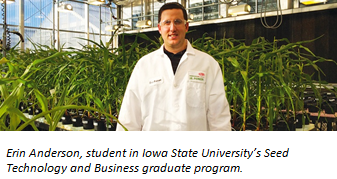 At Iowa State University, distance education programs in the College of Agriculture and Life Sciences have been reaching out to students for over 20 years, using every available technology to deliver their acclaimed programs to students who can't attend on campus. What was once accomplished through teleconferencing and mailing out CD-ROMs is now done with virtual classrooms and streaming lectures right in your browser. Online learning is more flexible than ever.
For many online students, the flexibility of online learning has afforded opportunities that were previously unattainable: "My day job as a 747 captain takes me worldwide, spanning most time zones and makes an on-campus education impossible," said Agronomy M.S. graduate Neil Martin. "I began this program with no farm experience and have since become a landlord farmer."
For others like Agricultural Education M.S. graduate Donna Leff, it was a combination of flexibility and the university's reputation for agriculture that helped them decide. "I've had a very positive experience in my online classes. The coursework, lectures, and instructor contact is pretty similar to on-campus classes. I would not have quit working to pursue my Master's degree, so the online classes have been invaluable." Donna added, "Iowa State's reputation among agricultural employers is second to none, which also made the decision easier."
In addition to master's degrees, many universities have added "certificates" to their list of programs. Certificates are focused, specialized programs for working professionals, designed to be less comprehensive than a full degree program, and usually requiring between 12 and 20 credits. In certificate programs like Iowa State's Food Safety and Defense certificate, students can enroll in just one or two courses per semester while working full time and still complete the program quickly. Some of their certificates, like Seed Science and Technology, actually comprise about half of a complete master's program, giving students the option to continue from the certificate directly toward a relevant master's degree.
With the growth of programs like these, the opportunity has never been greater for working adults and recent graduates alike to continue their education, no matter where they are and no matter what their schedule.
For more information about the courses and programs offered online by Iowa State University's College of Agriculture and Life Sciences, visit: www.agonline.iastate.edu