Crafting a Career in Beer and Farming
By Colorado State University
How do you combine a lifelong commitment to agriculture and a passion for beer to shift your career and break into the brewery industry? Hear from Geoff Hess, a graduate of the Integrated Resource Management program at Colorado State University, who is the farmer for Oskar Blues Brewery and Hops and Heifer Farm. In a recent interview, he shares his path to success, including how he landed the job at Oskar's. Watch a video of the highlights: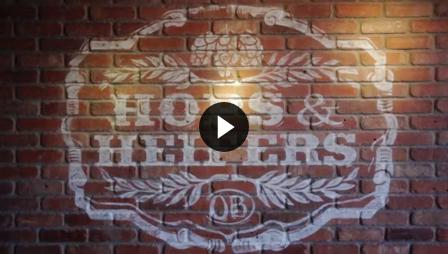 Geoff had an early start in agricultural work. He grew up in a little town in Amherst, Massachusetts on a 200-acre dairy farm. His father was a veterinarian and cared for animals on site.
"It was really fun. I think one of the greatest things about growing up on a farm, and one of the things you learn, is that immediate satisfaction of completing a job with your hands. Whether it's mowing hay, or getting it up in the barn, or fixing a tractor that's not working right, or even down to weed whacking around the barns and looking at how it looks when you're done – that satisfaction is something that I really enjoy when it comes to agriculture and being a part of a farm organization."
With an undergraduate degree at Cornell University, where he studied plant science, and his agricultural experience, Geoff began work for Monrovia, a large wholesale nursery production company.
"Although the opportunity was incredible and I learned a lot, I eventually became an outside sales representative for them in Colorado and for about fifteen years was on the road, working and meeting customers.
I really wanted to get back to a practical hands-on application when it came to agriculture… and that's when the Integrated Resource Management Program (IRM) just stood out as one that was going to help me include all the things I wanted to do in Ag."
Geoff joined the IRM program at Colorado State University to shift his career in a new direction.
"I was really excited about it because it integrated all the practical uses of a land mass and incorporated the business side of agriculture, the sustainability side of agriculture, and I saw an opportunity not only to engage with my passion for craft agriculture but also craft beer. Here in Colorado there are a lot of craft breweries and one of the things that was really exciting was hops production.

The IRM program had an internship component, so I wrote to craft breweries all across Colorado. I got a lot of interesting replies back and the most interesting reply I got back was from Dale Katechis. And to know him is to understand that he is a man of few words, but his words are sincere and to the point. So after the long letter I wrote to him over email, all he wrote back was Interested, call me. –Dale. "
Using skills and concepts gained in the IRM program, Geoff pitched his ideas for an integrated solution to help meet Dale's goals.
"Dale Katechis, the owner of Oskar Blues Brewery, and I got together and he presented me with an opportunity… he wanted to vertically integrate his craft brewery, Oskar Blues, which is the second largest craft brewery in Colorado, and the farm, and his restaurants.

(In CSU's IRM program) we had an animal science component, and we had a land mass and land ecology component, and we had the Ag business component. The ability for me to relate to Dale Katechis and pitch to him what we could do to integrate the farm, the brewery and the restaurant—to be able to speak in a language that made sense to him as far as the ROI and these business practices and techniques and formulas – I learned that at CSU. So when Dale went through my plan there wasn't a question that was left unanswered for him and he was confident that I was the one who was going to be able to execute it."
Now a farmer for Oskar Blues Brewery and Hops and Heifer Farm, Geoff enjoys being a part of the craft beer culture while he runs the agricultural operation, manages national beer sales accounts to chain stores, and trains new sales representatives at this growing company.
"The culture of craft beer is really fun because it's young; it's about craftsmanship and working with your hands, and working to understand raw materials—whether it's the grains that are used or the hops that are used, the yeast strains that are used. And it's a social environment which is fun to be a part of. It's a lot of hard work, too, but it yields a really fun product that you can go out and enjoy responsibly.

Now we've grown, we partner with other farms and farmers to raise our grass-fed and mash-finished all-natural beef. We have a Berkshire pork program where we raise Berkshire pigs here for our restaurants. We also have two acres of hydrolase hops where we are allowed to, not only learn about the hop growing process and how quality hops are produced, but have the opportunity to raise some local hops and make some specialty one-off batches of beer. So it's been a fun project, and I could not have put the whole sustainability program together if it wasn't for what I'd learned at CSU through the Integrated Resource Management program."
Learn more about CSU's online integrated resource management master's degree.