Becoming a Lifelong Learner
Becoming a Lifelong Learner
By Megan Sheridan, Marketing Director, Purdue University Center for Food and Agricultural Business
Forget anti-wrinkle cream, Botox injections, hair plugs and the Fountain of Youth. There is something that will keep people feeling young forever and costs much less than any anti-aging solution they may try - becoming a lifelong learner.

After all, Henry Ford said,"Anyone who stops learning is old, whether at 20 or 80. Anyone who keeps learning stays young."

Perhaps more importantly, being a lifelong learner helps agribusiness leaders make more informed business decisions and stay ahead of their competition. It also sets them apart from others vying for top management positions.

"Lifelong learning is increasingly critical because of the speed with which we are developing new knowledge and information," says Michael Boehlje, distinguished professor at Purdue University. "That information atrophies quickly. So managers have to continuously be involved in a learning process to stay up to date. It's just essential."

Lifelong learning occurs in two ways, according to Boehlje. The first involves learning through hands-on experience. The second is learning by reading or listening. Historically, people have learned through on-the-job experience; however, learning through reading and listening is increasingly more important due to the dramatic and rapid changes taking place in the business environment. Reading and listening provide managers with new views and perspectives from which to see their business challenges.

There are informal and formal ways to engage in the lifelong learning process. Informally, managers can access a broad set of information using online tools.

"The nice thing today is that lifelong learning compared to 20 years ago is much, much easier because of the technology we have now," Boehlje says. "If I wanted to find something out 20 years ago, it took an awful lot of work to just get some ideas. My problem now is that I get too much information, and I have to figure out how to sort it out."

Scott Beck, vice president of Beck's Hybrids in Atlanta, Ind., recently took a more formal approach to his lifelong learning by completing the Purdue University Indiana University MS-MBA in Food and Agribusiness Management. The 27-month, online program allows students to earn two degrees - a master's of business administration from Indiana University and a master's in agricultural economics from Purdue University.

The program offered Beck many benefits, including flexibility on when and where to "go to class," since 85 percent of the course work is delivered online. He liked how he could incorporate real business issues into his assignments and learn from his classmates, other working professionals in the food and agribusiness industry.

"The MS-MBA exposed me to great teachers and other business leaders," Beck says. "It was a chance to learn about how they approached different issues and gain exposure on a different level of how to deal with things."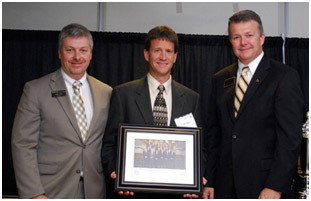 Scott Beck (middle) receives a graduation photo of his MS-MBA cohort from MS-MBA Director Allan Gray (left) and Glenn W. Sample Dean of Agriculture Jay Akridge (right).
Instead of a thesis, Beck and the other MS-MBA students completed capstone projects, which allowed them to focus on an opportunity or challenge specific to their company or employer. Beck worked on transforming some of Beck's Hybrids' financial processes to allow division managers easier access to the information so they could make more informed decisions.

"There are a lot of things that have come out of it," Beck explains. "As a result of the managers having an overall financial view of the department, it uncovered areas where spending could be reduced. It's still a work in progress, but the impact has already been substantial."

As a lifelong learner, Beck has also completed less rigorous leadership and management executive education courses. For example, he participated in a seminar covering management concepts and principles offered by the American Seed Trade Association and the Purdue University Center for Food and Agricultural Business. The center's faculty and staff manage the MS-MBA program and offer other management-related seminars and workshops specifically for people working in agribusiness.

So, whether it's through Google searches or formal lectures, embrace a lifelong learning mindset and enjoy feeling young forever.

To learn more about the MS-MBA and other lifelong learning opportunities available at the center, visit www.agecon.purdue.edu/agribusiness or e-mail luanna@purdue.edu.