Advancing the Next Generation of Food and Agribusiness Leaders

By Jennifer Stewart-Burton, Purdue University
Brittany Schaefer always knew she wanted to pursue an advanced degree.
An interior logistics specialist for a major agribusiness and food production company, Brittany says it was all about finding the right program at the right stage of her career.
Now in her second year of the MS-MBA in Food and Agribusiness Management program from Purdue and Indiana universities, she says she has known all along that she made the right choice.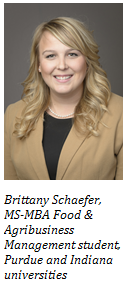 "The faculty and teaching assistants have been extremely accessible and both the homework and the capstone have been timely and relevant to what I do every day," she says. "I can't speak enough to the group atmosphere of the program. My classmates and I have a common thread and they have pushed me to be better."
The MS-MBA program gives students access to expertise at both universities and allows them to earn both a Master of Science (MS) in agricultural economics from Purdue and a Master of Business Administration (MBA) from IU in just 27 months. Each cohort is made up of 25-30 food and agribusiness professionals who work full-time while studying. The program is offered predominantly online, with five in-person residencies—four on campus and one abroad.
Learning beyond the classroom
According to director Allan Gray, professor of agricultural economics at Purdue, the MS-MBA program is about far more than just classroom learning.
"The faculty strive to make all of the concepts immediately applicable to the students' work," he says. "The capstone project is focused specifically on each student's job. These are high-impact projects similar to what companies would hire consultants to do. So the program not only immediately benefits the students, but their companies as well."
Brittany agrees. She remembers well sitting in the first residency and the instant impact it would have on her career.
"The first big thing we talked about was change management and my company had been going through some changes," she says. "I have used and applied all of what I learned in that residency. It has helped me to mature as a professional and to know how to handle certain situations. That bought me in from day one."
Other highlights for Brittany that have allowed her to provide immediate value to her company have been classes that built upon her already existing knowledge, including strategy, economics, and industry drivers. But she also says she has enjoyed learning about topics that are outside of her own professional realm because it has helped her to see her company and the industry through different lenses.
"I've had the chance to learn more about the psychology of human resources roles and to learn about information technology. It has allowed me to see the other side of things and to relate better to the people who work in these areas," she says. "The MS-MBA program really has helped me to understand the whole business, how it functions, and how I can contribute to its growth."
A program for busy people
Brittany heard about the MS-MBA program from family friends and even knew a few people who went through the program—one of which was her brother. She says she knew how great both Purdue and Indiana universities are and that the partnership would make for a strong degree program.
After reaching out to program staff, Brittany says she had a better understanding of what is expected of students and how it would all fit in with her career.
"The staff helped me throughout the application and testing process and made sure I got all of my letters of recommendation," she says. "They clearly communicated the program expectations and they kept me updated during every step."
But that's not all. As Brittany looked at the challenging course of study and her already jam-packed schedule, she found comfort from program faculty and staff who assured her that she could do it and that they would be there to support her along the way.
"The faculty understand that we're busy people," she says. "While they emphasize the importance of study time, they also try to appropriately balance the study time with our outside lives."
Program faculty and staff strive to build and maintain relationships with students and to make sure the students have the resources necessary to succeed. The policy is a 24-hour response time on student inquiries.
An invaluable support system
MS-MBA cohorts kick off their studies each August with a one-week residency at IU's Bloomington, Ind., campus. It's there that students first meet the classmates with whom they will study for the next 27 months. They often arrive nervous, but by the end of the week, strong bonds already have formed.
Throughout their studies, the students will work together on homework, but they also come to support one another no matter what life throws their way.
"Having this group to lean on has been invaluable," Brittany says. "We can rely on one another to pull each other through the program when life happens. Sometimes you're going to be the all-star of the group and other times others will be. We take care of each other."
Not only that, but the students challenge each other in their ways of thinking.
"When we get into the business world, it can be easy to become singular in our thinking," Brittany says. "The group is refreshing because there are so many other opinions and perspectives. I have classmates who come from all over the industry, which has broadened my scope of agriculture beyond the Midwest."
The payoff
For Brittany, the MS-MBA program has bolstered her confidence and critical thinking and decision-making skills—something she says led her to two job changes within her organization.
"Since coming into this program, my decision-making abilities have grown," she says. "Demonstrating those skills has helped my employer see me as a confident decision maker, which has led to new opportunities."
With so many different advanced degree options available to food and agribusiness professionals, choosing the right one can be a bit overwhelming. But for Brittany, the structure; immediate application; and support from faculty, staff and fellow students, make the MS-MBA in Food and Agribusiness Management from Purdue and IU the only choice.