Advancing Your Education Without Interrupting Your Career – An Online Learning Success Story
By Madison Hocking, Communications Assistant at Iowa State University
Having a family and a career can feel like it leaves little time for anything else, let alone earning an advanced education. Colleges and Universities around the world have responded to this feeling by developing online degree and certificate programs available anywhere you go. Online degrees today let you earn a degree while you drink your morning coffee, commute to work, or relax on the weekends. All these factors played a role in Cristobal Gonzalez's quest for expertise in the seed industry.
Cristobal Gonzalez's passion for agriculture started at a young age when he became fascinated with his cousin's plum orchard. Gonzalez never liked living in the city and knew he wanted to pursue a career in agriculture. Gonzalez started his career 11 years ago while finishing his degree in Agronomy Engineering in Chile working in parent seed production of corn and sunflowers. Since then he has worked in corn, soybean and cotton production as well as managing soybean field operations before joining Bayer Crop Science as production lead at the Boone, Iowa Corn Production facility. He has worked in many places around the world such as Chile, Indiana, Texas and multiple places around Iowa.
Alongside these many career moves, it is obvious why an online program was a must for Gonzalez. During this time, he also had his hands full with a wife and four kids. While in Texas, he started looking around for an online graduate degree program. His manager suggested the Iowa State University Seed Technology and Business (STB) M.S. program. With the support of his company and seeing his co-workers advance in their careers upon finishing the program, Gonzalez decided to apply.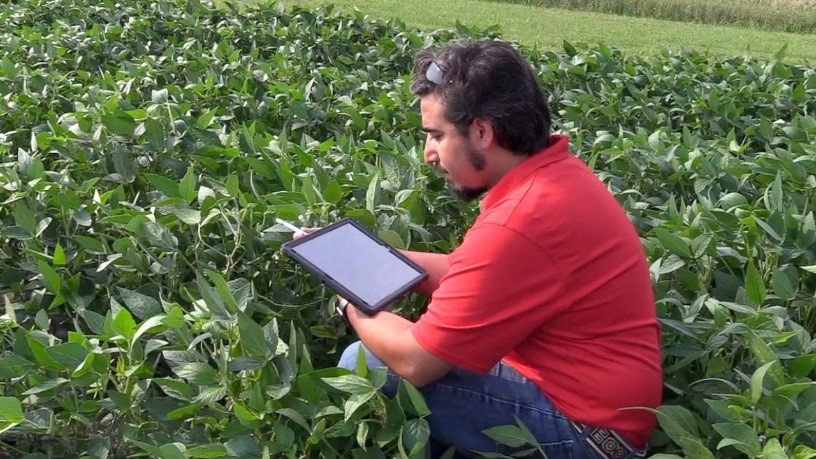 "Getting back into school mode, I enjoyed doing that" said Gonzalez. He started the program in Spring of 2014. He was able to listen to lectures during his commute and study from his home or hotels during busy seasons. He liked being able to receive notifications on his phone and the flexibility of being able to study anywhere. "I didn't have to be at a desk looking at a computer to do my school work," Gonzalez said.
Gonzalez noted that his professors were very approachable. He was able to contact professors whenever he needed, as he was able to call or email them. Another thing Gonzalez appreciated about the online platform was the ability to connect with other students from all over the world and learn about their backgrounds. Gonzalez graduated the program in the fall of 2017.
The STB program is part business oriented and part technical knowledge, which Gonzalez said he enjoyed and was very applicable to his career aspirations. "There was not a topic covered in any class that I haven't been able to relate to work" said Gonzalez. The program framework gave him a stronger background to be able to better work with farmers and growers, and that knowledge helped him excel at his job. Gonzalez saw many other people who continued their education considered for higher jobs, including himself, as he recently received another promotion.
Looking back on his degree, Gonzalez described his experience at Iowa State University in the online STB program as "Pretty much a dream come true for me."