AgCareers.com to Open Advertising Space for the 2012 Ag & Food Employer Guide
Is your company looking for a unique yet effective way to reach out to students within agriculture and food programs? Let AgCareers.com assist you in connecting with students and boosting your on-campus brand with the AgCareers.com Ag & Food Employer Guide. We will soon be opening up advertising for this year's student resource. If you have interest in becoming one of the elite businesses featured, please contact AgCareers.com.
The Ag & Food Employer Guide is a supplemental piece to AgriMarketing magazine and was developed to be a resource guide for students to compare businesses within the agriculture and food industry and their opportunities for internships and employment. The Ag & Food Employer Guide is distributed to more than 20,000 students across the U.S. and Canada in hard copy and even more students and industry professionals via the digital version.
The publication features advertorials from elite agribusiness and food employers. Advertorial space is limited. Each employer advertiser receives a full-page, four color advertorial where they can describe the benefits and types of opportunities that their organization has. AgCareers.com publishes a U.S. edition and a Canadian edition; both are offered in a digital format as well. See below for a full list of advertisers in 2011. Click here to see an electronic edition of the 2011 US Guide or 2011 Canadian Guide.
The piece also contains a variety of helpful articles to help keep students referencing the guide throughout the year. Example articles from last year's guides included: 'Resumes from Good to Great'; 'Making the Most of a Career Fair;' and 'Generation Y's Guide to Working with Older Generations.' The publication also features a listing of advanced education opportunities and institutes for agriculture.
AgCareers.com reaches these students and more by distributing hard copies in bulk to over 100 agriculture and food focused university and college career services offices as well as at many other industry events that team members attend. The publication is sent as an insert with the September issue of AgriMarketing magazine as well as to all student NAMA chapters. Each advertising employer receives 100 hard copies of the guide to distribute at career fairs and other events as they wish. While visiting campuses this past fall and spring, many students mentioned seeing or looking through the guide to learn more about companies.
Because we do have limited space we will be opening advertising sales soon first to AgCareers.com partnership clients and past advertisers, but then will be opening remaining spots to others shortly after that. Advertising rates for the US edition are $2475/page and in Canada, $1875/page. Only full-page space is available. If you would like to participate in the 2012 US and/or Canada Ag & Food Employer Guide or have further questions, please contact Erika Osmundsonerika.osmundson@agcareers.com; 800.672.8552 x.28. Don't miss your opportunity to join an elite group of agribusiness employers through a top on-campus recruiting strategy – the 2012 Ag & Food Employer Guide!
2011 Ag & Food Employer Guide Advertisers:
U S Ag & Food Employer Guide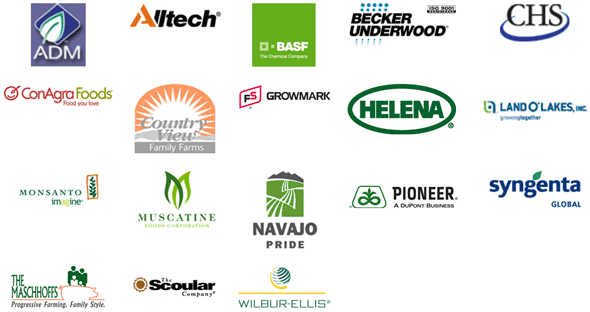 Canadian Ag & Food Employer Guide