Kuhn North America, Inc. Jobs and Careers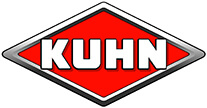 Kuhn is a world-wide specialist in hay tools, tillage tools, TMR mixers and manure spreaders and is recognized for our high quality products and superior service. We recognize that our customers have a choice when making their equipment decisions and it is our goal to produce the most innovative and highest quality machinery and provide a knowledgeable sales and product support group through our regional facilities and dealer network.
We have made significant investments in our North American facilities, equipment, product development and people. Our growth and success could net your future opportunity in engineering, product support, manufacturing, sales or marketing. We manufacture in Brodhead, WI and Hutchinson, KS, with distribution centers in New York, Tennessee, Colorado, Washington and Quebec.
Follow Company
Current Job Listings:
Welder
10/27/20
Brodhead, WI, Midwest United States, USA
Fabrication
10/27/20
Brodhead, WI, Midwest United States, USA
Paint Prep
10/27/20
Brodhead, WI, Midwest United States, USA
Assembler
10/27/20
Brodhead, WI, Midwest United States, USA