Australian Farm Institute's Agriculture Roundtable Conference
October 18, 2010
Australian Farm Institute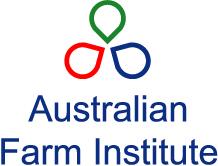 How to be informed about the most significant issues that will impact on Australian agriculture in the next few years: Attend the Australian Farm Institute's Agriculture Roundtable Conference.
The Australian Farm Institute's Agriculture Roundtable Conference is being held on Wednesday 10 and Thursday 11 November 2010. This annual events brings together leaders in Australian agriculture, providing the opportunity to debate the strategic issues shaping the sector.
Registrations are now open. To book your seat online, please proceed to the Australian Farm Institute website www.farminstitute.org.au
Each year, conference sessions are structured around a number of themes, and this year there will be a 'Great Debate' on the topic of water policy development in Australia. The statement for debate is 'That there is too much focus on the environment in water planning decisions'.
This debate will be chaired by Fran Kelly, presenter of the ABC Radio National Breakfast program.
Starting 6.30 pm on Wednesday 10 November for the Conference Gala Dinner, the event will be held at the Amora Hotel Jamison, 11 Jamison Street Sydney. Thursday 11 November a Conference Breakfast will be held, starting 7.30 am with the Conference continuing until 5.00 pm.
Full Registration at the Agriculture Roundtable Conference 2010 is $1045 (including GST) and as part of this registration, delegates will receive a 12-month subscription to the Australian Farm Institute's Farm Policy Journal (valued at $165 including GST).
Confirmed speakers include:
Simon McKeon – Chairman CSIRO
Iain Mars – CEO and Director of Swift Australia Pty Ltd.
Dr Kate Grenot – chair of the Australian Government's Rural Research & Development Council
David Goodfellow – Chief Executive Officer, Macquarie Pastoral Fund
Peter Corish – Executive Chairman, PrimeAg Australia
David Anthony – Managing Director and CEO, Auscott Ltd.
Professor Richard Kingsford – Director, Australian Wetlands and Rivers Centre, School of Biological, Earth and Environmental Sciences of the University of NSW
Wayne Gordon – Senior Analyst, Economics and Commodities, Rabobank Australia Ltd
Khan Horne – General Manager Agribusiness, National Australia Bank
Dr Arlene Harriss-Buchan – Healthy Rivers Campaign Coordinator, Australian Conservation Foundation
Danny O'Brien – CEO of the National Irrigators' Council
Dr James Neilsen – Technology Development Lead, Monsanto Australia Ltd