AgCareers.com Sponsors Student for Study Abroad
August 14, 2007
Clinton, NC – AgCareers.com was pleased to provide Robby Manning, a rising senior at North Carolina State University, a travel scholarship for her study-abroad trip this summer to Australia. Robby, along with 14 other students and an instructor, spent six weeks traveling throughout Australia learning about agricultural practices and how they differ from practices here in the United States and specifically, North Carolina.
"AgCareers.com recognizes the importance of study-abroad and international experiences for today's students. Not only does it help students have a more global view of agricultural business practices, it also helps them to mature as a person and be more competitive in the job market," says Eric Spell, President of AgCareers.com. As AgCareers.com encourages students to take part in study-abroad programs, they also encourage employers to support these opportunities for students via scholarships, and to support candidates who spend time abroad by evaluating what they can bring to the company.
During her time in Australia, Robby developed a whitepaper highlighting her agricultural engagements in Australia, activities that influenced/broadened her outlook on agricultural opportunities, barriers that students face when traveling abroad, and what steps can help promote participation by students and employers in study-abroad programs. Cost was the number one barrier Robby identified as a barrier keeping students from taking part in study abroad experiences. She added, "I was fortunate to receive assistance in the form of a scholarship from AgCareers.com, as they support and encourage international experiences for college students." As AgCareers.com communicates with both audiences, the information provided by Robby will provide a first-hand testament to the enrichment that students may experience in study-abroad programs.
Highlights of Robby's trip, as described in her paper, include visiting her first winery, scuba diving in the Great Barrier Reef, participating in sheep sheering, and visiting the rain forest. From an educational standpoint, the students visited a variety of agricultural universities and associated research facilities while also being allowed to experience unique geographical amenities such as interacting with kangaroo, wallaby, and Aboriginals. Robby mentions, "The most important lessons I learned overseas were more about myself and how I react when placed in a completely different environment….lessons that will impact my future career and personal decisions."
Click here
to access Robby's whitepaper.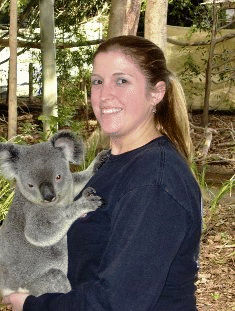 Robby Manning at Australia Zoo with Koloa
AgCareers.com is dedicated to bringing together employers and job seekers through a targeted, online job board, with more than 1,000 new jobs posted each month from agribusiness companies across the world. More than 4,000 applicants apply to jobs each month and the site has more than 1 million page views each month. The site services companies throughout North America and Australia in all sectors of the industry. AgCareers.com is headquartered in Clinton, North Carolina, with additional operations in Ames, Iowa; Fresno, California; London and Guelph, Ontario Canada, and Melbourne Australia. AgCareers.com is a member of the Farms.com family of companies.