Atypical Agricultural Careers
by Cynthia Hoffman, AgCareers.com
Q: What do a marketing communications firm, cartoonist, and software technology company have in common?
A: Agriculture. At first this may seem like an odd answer, but agriculture in the 21st century has expanded to include various career opportunities. Bernard Tobin, Leigh Rubin and Keith Hartley may not have "typical" agricultural careers, but all of them enjoy their jobs and are proud to be part of the agricultural industry.
ADVERTISING AGRICULTURE
Bernard Tobin's connection with agriculture began early on. He grew up in Canada on a dairy farm outside of St. John's, Newfoundland. But Tobin wasn't interested in studying agriculture in college. Instead, he earned an undergraduate degree in political science at Memorial University and earned a second undergraduate degree in journalism at Ryerson University. Ironically, after college, he began working in the agricultural industry.
"I left my home on the farm and went to the city for college and didn't think I would work in agriculture," Tobin said. "I appreciate what a city has to offer, but was always drawn back to the farm."
Tobin became editor for an agricultural publication and wrote about agricultural issues ranging from public affairs to biotechnology. He then worked in several public relations agencies completing projects for agricultural clients.
"I was able to pair my political science knowledge and communications skills with my agricultural background and use both to be an effective professional," Tobin said.
In January 2007 he began a new job. Now, during his work day he will open a barn door and pass by a feed trough. But the barn door doesn't lead into a barn, and the feed trough is certainly not holding any feed.
Tobin works at AdFarm, a full-service marketing communications agency for production agriculture, food and rural development. The barn door opens into a meeting room and the feed trough holds the company's various awards.
"Branding is very important to us and it is reflected by the way we incorporate agriculture into our office building," said Tobin.
According to their Web site, AdFarm works with clients who provide products and services to the farm, those who market the farm's finished products, and those who need assistance with farm issues. AdFarm's Canadian offices are located in Guelph, Ontario, and Calgary, Alberta. AdFarm also has U.S. offices in Kansas City, MO, and Fargo, ND.
As team leader for the Guelph office, Tobin is responsible for managing a staff of 17 people consisting of account managers, public relations specialists, creative art directors, and studio production professionals
He said the team works together to effectively meet the needs of their clients. Some members on his team have an agricultural background, but others didn't open a barn door until they began working at AdFarm. Tobin said the team's diversity leads to its success.
"One of our strengths is being able to bring people with both agriculture and non-agricultural backgrounds together to share perspectives and produce the best possible product," he said. "We thrive on teamwork. Melding everyone's expertise together is what makes us successful."
These professionals may not be working on the farm, but they are still gaining experience working with agriculture.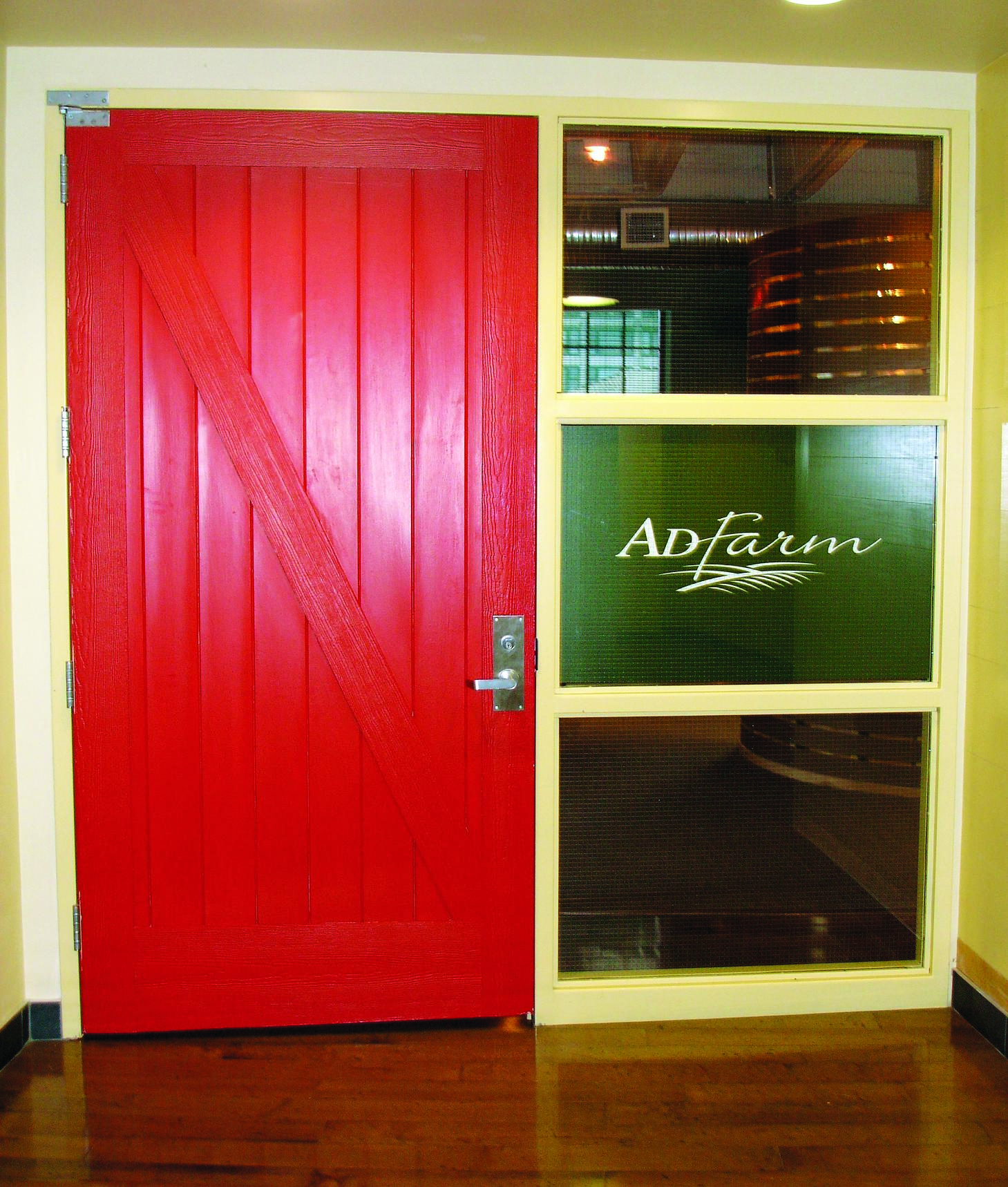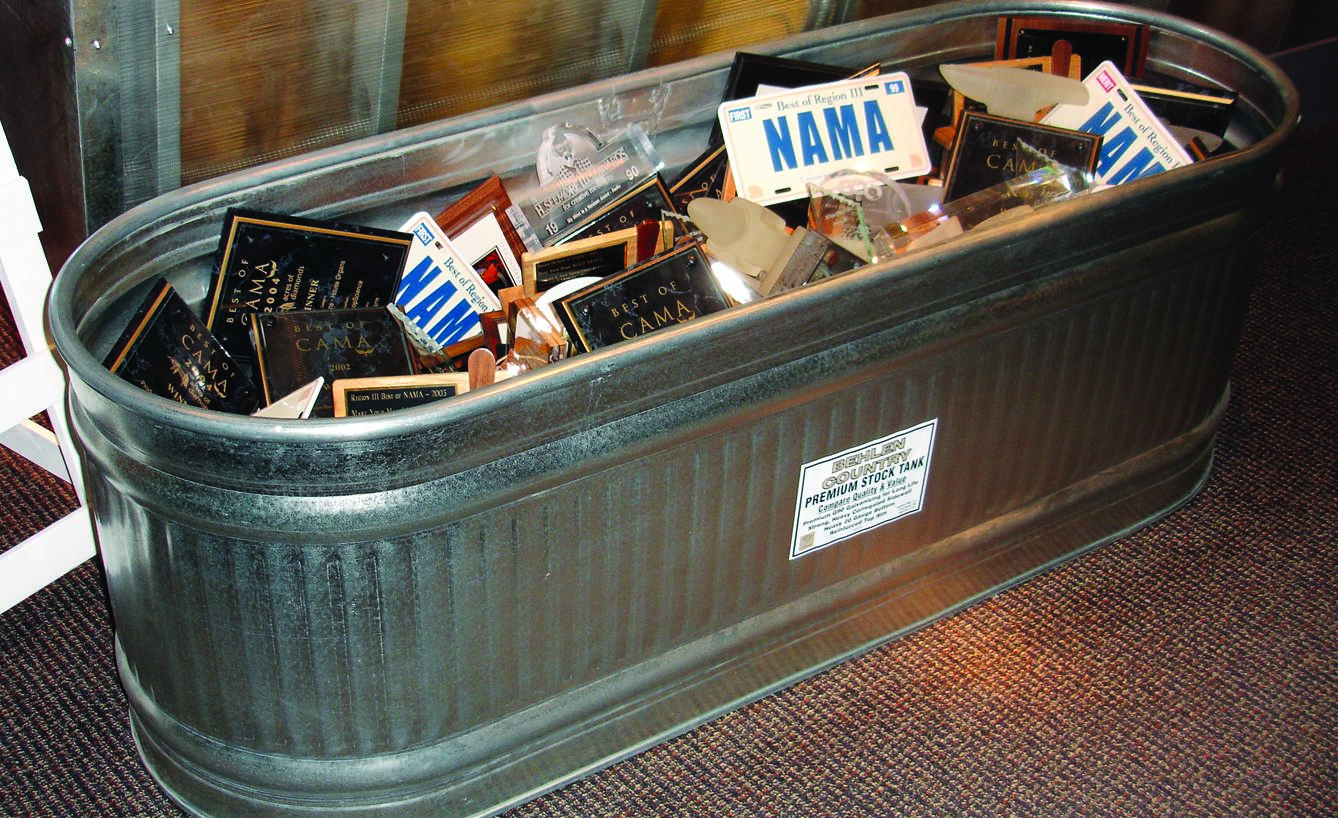 AdFarm's unique office atmosphere reflects the industries they serve and reminds employees of the importance of their jobs within the agricultural industry.
"Our professionals work on everything from seed to crop production to animal sciences," Tobin said. "It's a great career because you get to work with a range of clients in agriculture and that collection of experience makes everyone better."
ANIMATING FARM ANIMALS
An AdFarm creative art director is probably someone Leigh Rubin could relate to. Unlike Tobin, the cartoonist did not grow up on a farm. He was born in Kew Gardens, NY, and moved to Northridge, CA, when he was young. Besides having a few chickens and two ducks named Dinky and Waddles, Rubin said he was pretty much a "suburbia kid."
Yet many of Rubin's comics and greeting cards are related to agriculture. His daily syndicated comic, "Rubes," appears in more than 400 newspapers worldwide, including some agricultural publications. Rubin's cow cartoons were also featured throughout the opening sequence of a film titled "Moola" that was released in May 2008.
He says that while he didn't grow up on a farm, he would always see farm animals when driving down the highway. Those animals served as his connection to agriculture.
"I draw lots of different animals, but I'm more familiar with the traditional farm animals," Rubin said. "I think most people can relate to them because everyone is connected to agriculture by the food we eat and the clothes we wear."
Rubin said he never imagined that he would be involved with the agricultural industry on any level. He studied advertising arts at Pierce College in Woodland Hills, CA, and worked for his father's printing company.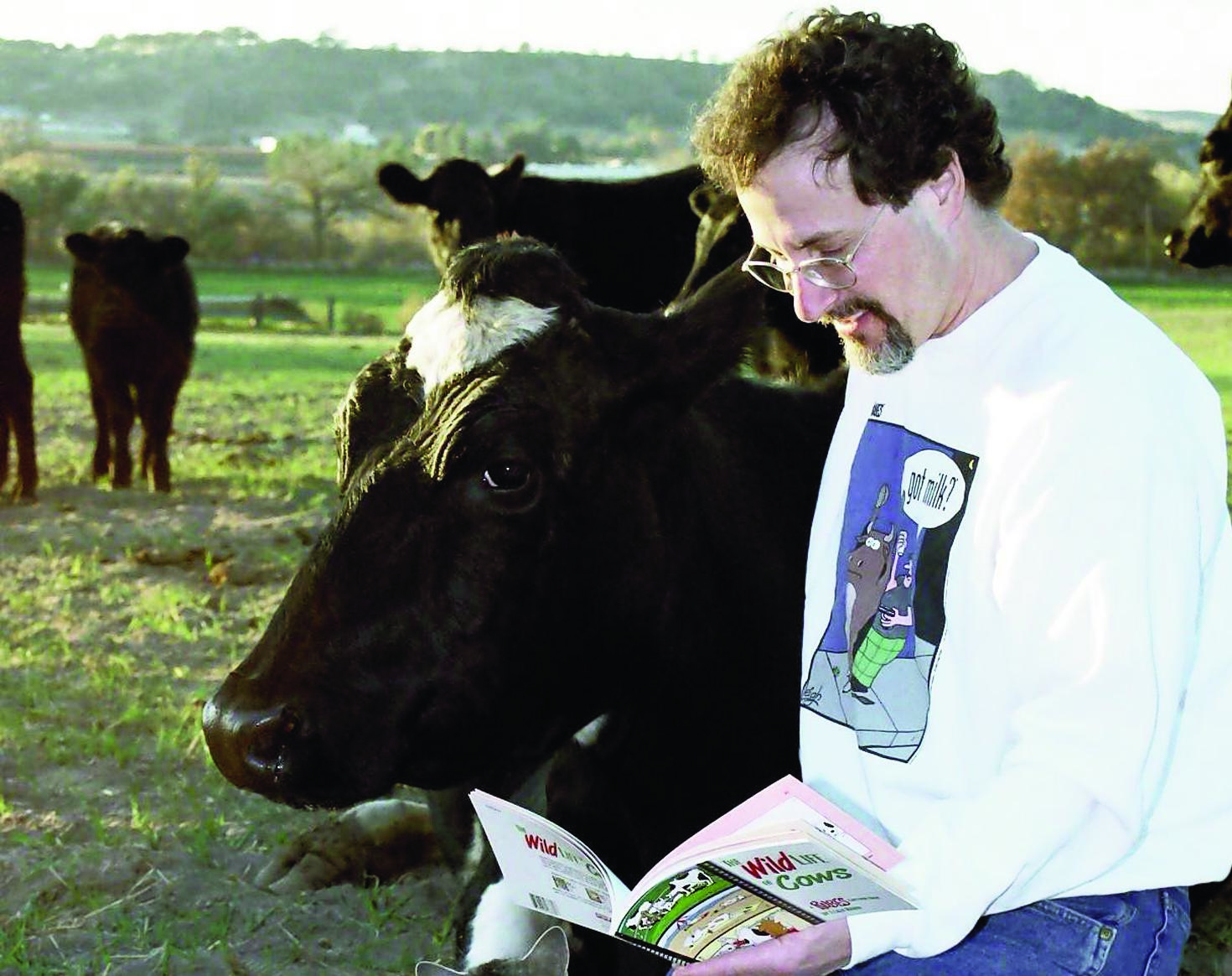 Leigh Rubin's cartoons bring laughter and a reminder that we are all connected to agriculture by the food we eat and the clothes we wear.
"I had worked for my dad at the printing company, sold real estate, and been a janitor," Rubin said. "I knew I didn't want to do any of those things, but couldn't figure out what I should do with my life. Then I saw a card collection by Sandra Boynton, and thought wait a minute, I can do something like that."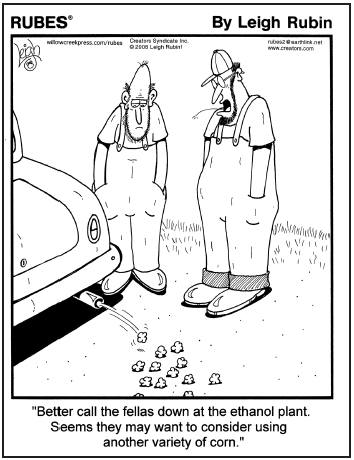 In 1978 he sold his first card at his father's print shop. There on the outside of the card was a picture of a raccoon eating a large ear of corn. Inside the card said, "I'd like to nibble on your ear."
In 1981 he began a new product line called "Notable Quotes." The products contained comical quotes with musical note graphics. The designs were placed on mugs and other paraphernalia and sold at street fairs. He was promoting a book of "Notable Quotes" in Lancaster, CA, when the local paper wrote an article about him.
"I became friends with the entertainment editor and he asked me if I wanted to do a daily cartoon for the newspaper," Rubin said. "In November 1984 my first daily cartoon appeared in the Antelope Valley Press."
In 2002 Rubin stumbled across Capital Press, a Northwestern agricultural weekly newspaper. Because he designed many agriculturerelated cartoons, he contacted the publication and they agreed to run his comic.
"After my success with Capital Press, I began sending other agricultural publications examples of my work, and they began picking it up," Rubin said.
Later that year, Rubin released four books of cartoon collections, two of which were completely agriculture related. He received a call from the National Cattlemen's Beef Association asking for 500 books to use as gifts at their annual convention. Rubin attended the convention and has been participating in agricultural trade shows and events ever since.
"The folks that I have run into at the agricultural events are really appreciative of what I draw," Rubin said. "Obviously I don't have an agricultural background, but people don't mind it. They are welcoming anyway."
Rubin now receives various agricultural publications at his home in Nipomo, CA, and said he reads them all. He said that although creating agricultural cartoons is not a "traditional" way to earn a living in agriculture, he enjoys his connection with the industry.
"It would be presumptuous of me to say I understand the agricultural industry, because there is a lot I don't know about it," Rubin said. "But I enjoy reading and learning about agriculture and have a great respect for the industry because of the amazing people I've met."
APPLYING TECHNOLOGY
Keith Hartley agrees that the agricultural industry is filled with good- quality people. He also said it's filled with excellent job opportunities. "I truly believe that the next 10 to 15 years in the agricultural industry are going to be revolutionary," Hartley said. "There is going to be a huge opportunity for people to solve problems and help growers increase production in many different career capacities."
Hartley is Vice President of Sales and Marketing at a company called Pure Sense. The company provides technology and service that allows growers to monitor and manage their water resources.
The PureSense technology includes field monitoring stations that are networked to analytical software. Every 15 minutes a soil reading is taken and transmitted through a satellite. The soil's information is then sent to the farmer's computer or cell phone, and they can use it to make decisions about their water input.
"We help growers efficiently use their water resources," Hartley said. "We are their view into the soil and can tell them minute by minute what's going on in their fields."
The idea for this type of technology originated at NASA. After 9/11, NASA scientists worked on developing intelligent systems to prevent the risks of terrorism attacks on U.S. water resources.
Two of the scientists working on the project applied the concept to agriculture and took the technology private, forming the foundation for PureSense. The Pure Sense vision is to revolutionize agriculture with a new competitive advantage — the efficient use of water for optimum crop performance.
Pure Sense also provides the histology of everything that was put into the soil the last week, month or even year, and analyzes the effect it had upon the soil. In the future Hartley said Pure Sense will be monitoring more than just water.
"We hope to be the one stop shop that monitors everything that goes into the ground whether it is water, chemical fertilizer or other additives," he said.
The company is based in California, but Hartley said Pure Sense plans to be present in Texas, Florida, and the Midwest within the next two years. Eventually, the company wants to go international.
Hartley said Pure Sense has a wide range of positions including sales, agronomic related services, technical support, software engineering, and installation and maintenance. Hartley said agronomists may not think about working at a company like Pure Sense, but their expertise is definitely needed.
"For the agronomic support function, we are hiring people with a plant science or plant physiology background. They will look at data, interpret it, and help our growers understand it," Hartley said.
At Pure Sense, the agronomist may be working with the engineer who may be working with the tech At Pure Sense, the agronomist may be working with the engineer who may be working with the technical support professional. Hartley said all professionals use their knowledge to work together to offer an effective product and service to the grower.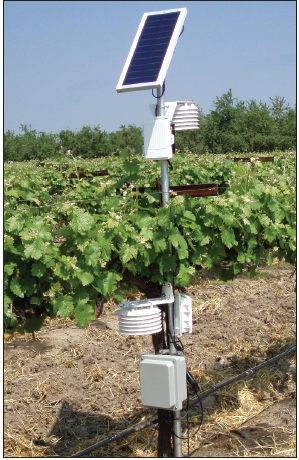 Pure Sense combines agriculture and technology to help growers.
"We may not have spent our whole lives in agriculture, but we come with a new perspective and a new solution of how to solve problems," Hartley said. "Growers are very respective and receptive of what we can do for them."
Hartley didn't grow up on a farm, but his dad worked in food processing serving as Hartley's first connection with agriculture. He studied computer engineering at Fresno State and focused specifically on merging technologies.
After completing college, Hartley worked for IBM and numerous other small software companies. Hartley said he met a Pure Sense board member at a networking event and became extremely interested in the company.
"I had always searched for unique technology opportunities," Hartley said. "Pure Sense was an opportunity to bring my computer software knowledge into agriculture."
Hartley said he always envisioned himself working with a technology company that solved problems, but never thought it would be in agriculture.
"I had a clear view of how I wanted my career to go, but it's never as simple as one thinks it will be," Hartley said. "I had a lot of job experiences before this one, but they helped prepare me for my position at Pure Sense. It's gratifying to be in agriculture because I always wanted to be involved in something that could make a difference."
BREAKING THE BOUNDARIES
Hartley said there is rarely a straight line to get to the career that is the right fit. He said his "zigzag" career path has helped him develop as a professional. He encourages students to think beyond the typical career boundaries.
"The common theme among our staff members at Pure Sense is that almost everyone at the company has done a variety of things," Hartley said. "I encourage students to try things outside of their comfort zone. There will be more learning with that experience and they can apply that learning to any job."
Tobin agrees that agriculture is a good place to gain learning experiences, but said it also offers numerous opportunities to help one discover their desired career direction.
"Agriculture and food are so dynamic. With agriculture you can go around the world, experience the heights of technology, and meet exceptional people," Tobin said.
"Whether you participate in production agriculture, or take the non-traditional route, agriculture is a good place to be."