Viticulturist
Current Job Openings:
No current listings at this time, Click Here to search for other openings
Overview:
Viticulturists research and implement their findings to better help grape vines produce grapes that are of high quality and amount that is required for making wine.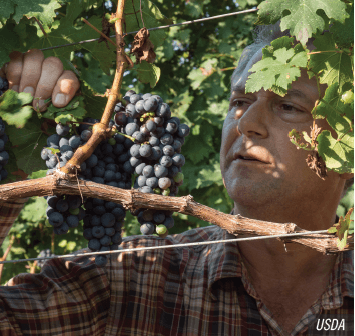 What responsibilities will I have?
Production of grapes under a wide variety of natural conditions including preparation of the land, planting, trellising, pruning, monitoring and controlling of pests and diseases, fertilizing, irrigation and canopy management
Potential to manage both table and wine grapes
Understand optimum ripeness (fruit development and characteristics) and proper harvesting of grapes
Design and implement pest and disease control programs following pest management practices and a sustainable farming approach
Use plant, climate and soil moisture monitoring equipment for scheduling irrigation and modeling grapevine shape/phrenology
Diagnose and solve viticulture problems
Collect, organize and report viticulture data to support farming and marketing decisions
Possibly direct and supervise staff
Provide feedback and guidance to wine farmers/vineyard managers to yield the best results
Direct contact with the winemaker to communicate grape characteristics needed to begin the winemaking process
What education and training is required?
A bachelor's degree in viticulture, oenology, or horticulture is required. A master's degree in viticulture or oenology or horticulture is also often a requirement.
To pursue a career as a Viticulturist:
The following high school courses are recommended: agricultural education, biology, chemistry, physics, and mathematics.
Typical Employers:
Typical employers are wine farms or estates, wine production companies, government agencies, colleges and universities or you may be self-employed.
Future Job Market/Outlook:
The future outlook for Viticulturist is projected to be good to excellent depending on the region.
Suggested Professional Organizations and Associations:
American Society for Enology and Viticulture
Winegrape Growers of America