Overview
Veterinary pathologists are doctors of veterinary medicine who diagnose diseases by examining animal tissue and body fluids. Anatomical veterinary pathologists diagnose disease based on examination of organs, tissues and bodies. Clinical veterinary pathologists base their diagnosis on analysis of urine or blood.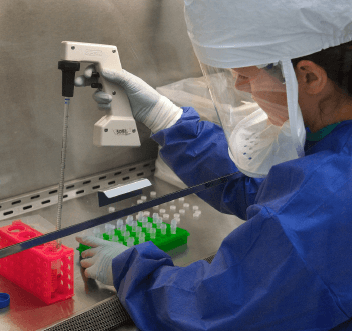 What responsibilities will I have?
Complete post-mortem exams on small and large animals
Oversee preparation of tissue for testing
Complete testing of blood and tissue samples
Discusses study results with clients. This may include developing a plan for further testing
Analyze results of laboratory tests and studies
Works in conjunction with Associates and/or clients in the development of study design
Determine animal's cause of death and diagnosis disease
Practice and promote ethical laboratory procedures
Conduct studies in compliance with FDA and other national and international regulatory agencies
Interact with and advise lab personnel in proper specimen handling and processing techniques
Contribute to the development of drugs and animal health products
Conduct research studies
Advise government agencies on the spread and progression of animal diseases
Maintain proficiency and develop clinical diagnostic skills.
What education and training is required?
Beyond earning a doctor of veterinary medicine degree, veterinary pathologists must complete an extensive anatomical or clinical pathology residency at a veterinary teaching hospital. To become board certified, individuals must complete a minimum of three years of clinical training and pass the board certification exams.
To pursue a career as a veterinary pathologist:
The following high school courses are recommended: agricultural education, English, a focus on higher level mathematics and science: statistics, algebra, genetics, biology and chemistry.
Where can I work?
Veterinary pathologist mainly work in a laboratory setting for both private companies and government agencies such as the United States Department of Agriculture.
Future Job Market / Outlook
The job outlook for veterinary pathologists is good over the next five years.
Suggested Professional Organizations and Associations
American College of Veterinary Pathologist
American Veterinary Medical Association