Truck Driver
Overview:
A truck driver is the point of contact for receiving, transporting, and delivering products within the ag industry. They ensure that products such as livestock, equipment, and feed are safely delivered to their desired locations.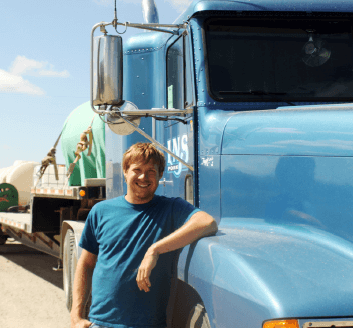 What responsibilities will I have?
Observe all government and company regulations at all times
Ensure that the tractor and trailer is cleaned and maintained in a safe working manner. This includes identifying all needed maintenance on tractor or trailer requiring attention by maintenance
Accurately perform a pre-trip inspection that includes tires, fuel, oil etc.
Before loading ensure that the compartments are free of feed or ingredients
Ensure that the tarp cover is securely fastened and protecting ingredients from contamination
Collect samples of ingredients for quality assurance testing
Accurately complete delivery forms and forward the documentation for timely processing
Load and Unload trucks when at destination
Drive livestock to and from market/slaughter house to farm
Monitor the conditions of the livestock on the trip and take appropriate action
What education and training is required?
High School Diploma plus CDL Certification.
To pursue a career as a Truck Driver:
The following high school courses are recommended: agricultural education, a focus on sciences such as animal science and biology, and mathematics.
Typical Employers:
Employed by food production companies, grain merchandising companies, chemical companies, co-ops, seed production companies.
Future Job Market/Outlook:
The future outlook for Truck Drivers is projected to be good to excellent.
Suggested Professional Organizations and Associations:
United Truck Drivers Association
American Trucking Association
Women in Trucking Association