Overview
A small animal veterinarian is responsible for the diagnosis and treatment of sickness, disease and injury in companion animals like dogs, cats, rabbits, caged birds, and other small pets.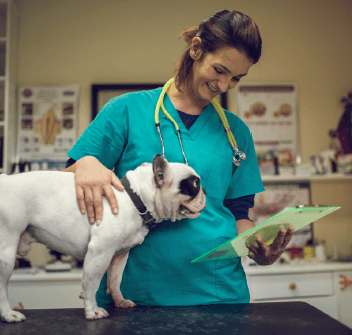 What responsibilities will I have?
Provide clinical and surgical care and disease surveillance to small animals
Prescribe and administer medications and set fractures
Administer vaccinations and draw blood for testing
Humanely euthanize terminally ill or fatally wounded animals
Perform reproductive surgeries like spay or neuter procedures
Give technical advice on products for small animals or pets
Operate medical equipment like x-ray machines and ultrasound technology
Advise on measures to prevent the occurrence or spread of diseases
Adhere to standard safety protocols and maintain a clean, sterile environment
Communicate and educate pet owners about disease, preventative, breeding and behavior
Perform site visits as needed
What education and training is required?
A Doctor of Veterinary Medicine (DVM) is required to become a small animal veterinarian. You may also consider receiving special certifications for therapy, ophthalmology, anesthesiology, neurology, or critical care.
To pursue a career as a Small Animal Veterinarian:
The following high school courses are recommended: agricultural education, animal science, biology, chemistry, computer courses, and mathematics.
Where can I work?
Small animal veterinarians may be self-employed or work for clinics, animal hospitals, laboratories, or animal health companies.
Future Job Market / Outlook
The future outlook for a small animal veterinarian will be good over the next five years.
Suggested Professional Organizations and Associations
American Veterinary Medical Association
North American Veterinary Technician Association
American Association of Feline Veterinarians
World Small Animal Veterinary Association